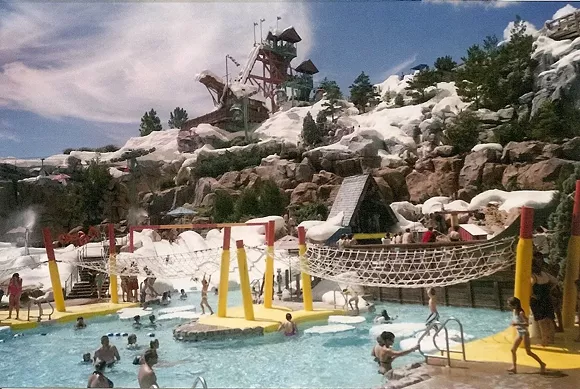 Image via Tweets of #Orlando | Twitter
Every major water park and theme park in Florida has seen multiple updates since Blizzard Beach opened its most recent ride. Back in July, it looked like Blizzard Beach might finally be
getting a new ride
after more than two decades of no major updates. The rumors began in late 2016 when word first leaked out that the Runoff Rapids trio of slides wasn't going to be open when the seasonal water park reopened in 2017.
By midyear, rumors were running wild with what would replace the closed slides. The general consensus was that Disney would add a new slide to Blizzard Beach for 2018, on the heels of the new slide they added at Typhoon Lagoon in 2017. This new Blizzard Beach attraction would be part of their reaction to Volcano Bay, the "water theme park" that Universal Orlando opened in May of 2017, in the same
way
that Typhoon Lagoon's
Miss Adventure Falls
and Aquatica's soon to open
Ray Rush
likely are.
With Universal's new water park (which, despite Universal's insistence, doesn't seem any closer to a theme park than any of the other themed water parks in Orlando) opening to
awful reviews
, and with those bad reviews
still rolling in
now more than half a year later, the big attendance hit on pre-existing local water parks seems to be much lower than many had feared.
This might be part of the reasoning we now see in Disney not installing a new ride where Runoff Rapids was, but instead simply replacing some of the original slide sections on the current attraction.
WDWMagic
, a local Disney news and forum site, is reporting that the opening-day attraction is in the midst of a major rebuild, stating that "it isn't yet clear what the end result of the refurbishment will be, but it appears that the original slide sections are being reused."
What is clear is that this update doesn't require any significant changes in current water management approvals. When reporting the rumors back in July,
we stated
that the lack of new water management permits "could point to Disney using pre-existing impermeable areas," which now looks to be the case. Recent aerial photos published on Twitter by local theme park photographer
Bioreconstruct
followed by more aerial photos published on
WDWMagic's
site confirm new land clearing and construction near the attraction. It now looks like the older rumors of plumbing and land stability issues around the backside of the 90-foot-high manmade hill known as Mount
Gushmore
, where the majority of the park's rides are located, are true. The aerial photos show construction on at least
two large water pipes
in the area along with updates to various other slides nearby, including extensive updates
to
the Toboggan Racers attraction.
All construction is expected to wrap up by mid-spring. Blizzard Beach is scheduled to reopen on Jan. 8, 2018, at which time Typhoon Lagoon will close for its annual refurbishment. Unlike last year, no major new additions are expected to be added at Typhoon Lagoon during its downtime.