Photo by Monivette Cordeiro
Puerto Rican activists in Orlando want U.S. Sen. Marco Rubio to oppose the GOP tax bill because they say the measure would devastate the island as it struggles to recover from Hurricane Maria.
For weeks, Puerto Rican officials and activists have argued that the $1.5 trillion Republican tax overhaul would be an attack on the U.S. commonwealth's economy and kill thousands of job on the island. The
New York Times
reports the legislation treats Puerto Rico like a foreign country and levies a 12.5 percent income tax on patents and intellectual property that mainland companies produce on the island. The commonwealth has long been considered a tax haven for certain industries, like pharmaceutical companies and medical-device makers. The tax change could prompt these companies to leave, taking thousands of jobs with them. Puerto Rico Gov. Ricardo Rosselló told
NBC News
that it was "devastating and unconscionable" that Republicans like Rubio would do this while 3.4 million American citizens on the island live in the deteriorating conditions left by Maria. Rubio announced last week he would
support
the GOP tax bill after small concessions were made to Florida's junior senator regarding child tax care credits.
"They certainly turned a blind eye, turned their back on Puerto Rico," Rosselló told NBC News about Republican leaders. "It shows a lot of hypocrisy. … It is a devastating blow to the people of Puerto Rico. Senator Rubio seemed to understand what it meant that it had a severe impact on Puerto Rico. So it is disappointing."
On Monday, activists organized by VAMOS4PR in Orlando delivered a letter to Rubio's downtown Orlando office at 201 S. Orange Avenue with the signatures of 150 individuals and groups from across Florida.
"This provision will put the nail on the coffin on the economic future for the 3.4 million U.S. citizens on the island," the letter said. "Experts estimate that forcing this tax on manufacturing in Puerto Rico would cost the island up to 250,000 jobs, or 30 percent of the non-farm jobs that survived the hurricane. This would be on top of job losses from a decade-long recession, a crippling debt crisis and the devastation brought by Hurricanes Irma and Maria. We call on [Rubio] as our Florida representative and as someone who has in the past presented himself as a defender of Puerto Ricans in our state and on the island to make sure that this provision is stricken from any tax reform plan approved by Congress."
The small group was not let inside the private building where the public office is housed, but a representative from Rubio's staff did come down and take their letter.
Orlando Weekly
reached out to Rubio's office for a comment but did not get an immediate response.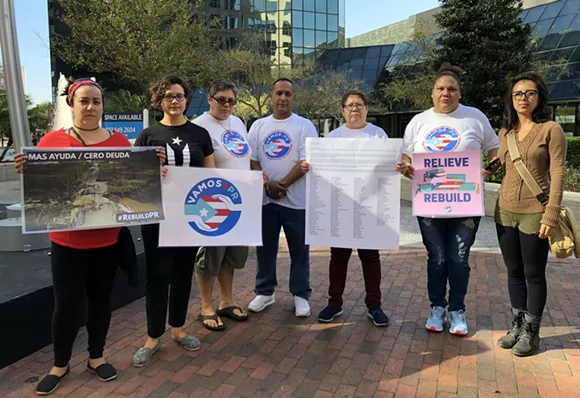 Photo by Monivette Cordeiro
Yulissa Arce, of Organize Florida, says she doesn't expect Rubio to vote against the Republican bill, but at least he could take out the tax provision that's unfair to Puerto Rico.
"Puerto Rico has already gone through major economic crises," Arce says. "People are just now getting aid. Their lives are on the line. A lot of companies haven't been able to get back up after Hurricane Maria, and they've had to shut down their doors, obviously not being able to pay employees and creating even more of a crisis. This excise tax bill provision would essentially continue to kill more jobs that are highly needed."
Brunilda Concepción, a member of VAMOS4PR who lives in Kissimmee, says her elderly grandparents don't want to leave Toa Baja, Puerto Rico even though there is no electricity where they live. Many people on the island still don't have access to power or running water and have fled to the mainland in a mass exodus, especially to cities in Central Florida.
"They don't want to come over here because they're afraid that they'll take their homes," she says. "They lost everything. … We just need Rubio to have compassion. He has to think outside the box. He has to put himself in those hundreds of thousands of people's shoes right now. I hope this can open his eyes."