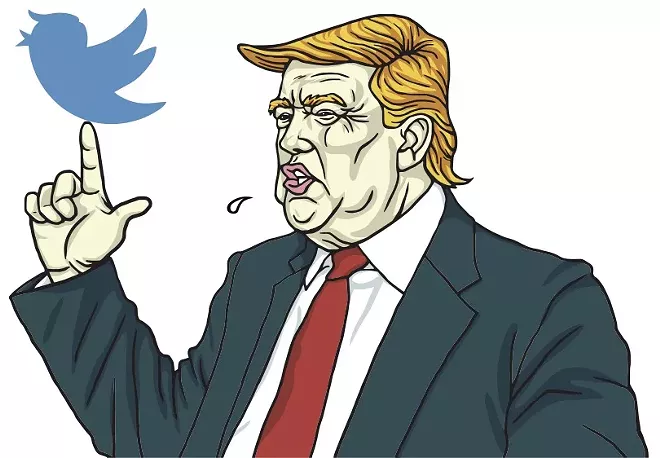 illustration by Doamama / Shutterstock.com
I got drunk last weekend and read all 2,735 tweets that Donald Trump has written since the election in the hopes that Trump's Twitter feed (collected and searchable on
trumptwitterarchive.com
, by the way) might be a good way to get a sense of the horrors we've endured.
Looking at the tweets was like reliving all of the unbelievable moments of this last year in fast motion. But it's important not to forget that we used to not have to deal with the dread of waking up each morning to realize that Donald Trump is president and scramble madly for Twitter to make sure we're not at war. A year ago, all of this was new to us.
So here are 10 of Trump's tweets, in chronological order, that capture something about the authoritarian nature of this presidency or the insanity of our social media moment. I left off some obvious favorites (covfefe!) and tended to favor some earlier ones that prefigured later themes.
1. Even though it was from the interregnum, this tweet is in many ways the Ur-tweet of the Trump presidency. It is only Trump's fourth post-election tweet, but it captures the spirit of his feed. Validate Trump+attack enemies+attack media=complain about affront to Trump.
2. This tweet is about the VP-elect's attendance of the hit play
Hamilton
, whose cast ended the performance with a short speech, expressing the concern we all felt in those uncertain days while hoping "this show has inspired you to uphold our American values and to work on behalf of all of us."
But Trump took the opportunity to remind us of the depths of his cynicism when he demanded a safe space for powerful white men. Brandon Victor Dixon, who gave the speech, is black, and Trump has made a habit of demanding apologies from black people. This tweet barely made the list, just edging out Trump's claim, also in November, that "Nobody should be allowed to burn the American flag — if they do, there must be consequences — perhaps loss of citizenship or year in jail!" because both turn out to introduce autocratic themes we've seen develop over the year.
3. Here the President threatens the funds of a major university in order to support Milo Yiannopoulos, the right-wing troll who had white supremacists line-edit his ghostwritten Breitbart stories, when his speech at Berkeley was being protested. Milo worked for Steve Bannon, who worked for Trump.
4. This is at the top of the list of
authoritarian
tweets. It's got it all.
5. Foreign policy by tweet. This led to all of the "little rocket man" stuff that almost started a nuclear war and ruined a perfectly good Elton John song.
6. Walking back an impossible promise while making it look like you're delivering. This is exactly how Trump ran (runs?) his businesses.
7. This reminds me of a line from an Oedipus play. Read it again with that in mind. Tragic.
8. OK, this is two. But he's attacking the mayor of a devastated city and using racist stereotypes all in one (he practiced for this after the London terrorist attack.)
9. The complete cynicism of the entire administration becomes painfully clear here. Remember how tough Lauer was on Clinton as he bro-ed it up with Trump? The 16 allegations of sexual harassment against Trump? Yeah. He still went there.
10. This one has an asterisk beside it because when it seemed like it could be an admission that Trump obstructed justice in the investigation of Flynn, Trump's creepy lawyer John Dowd claimed that he actually wrote the tweet.
Bonus retweet:
This is a retweet, but it's Trump retweeting Laura Ingraham responding to a
New York Times
story I wrote arguing that Charles Manson was alt-right, so I couldn't not include it.
The
New York Times
opinion page tweeted:
Ingraham quoted that and wrote:
And Trump retweeted it, somehow both proving my point and completing the circle of my year.