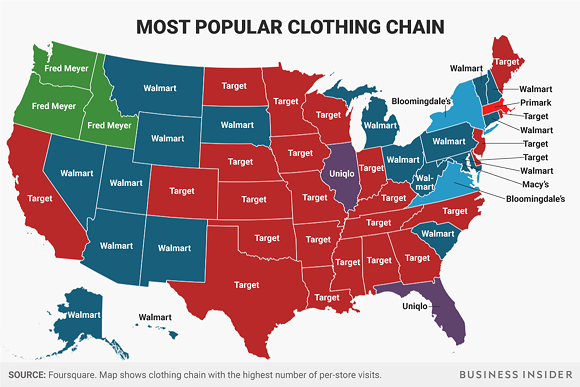 Did you know that Uniqlo is Florida's most popular chain? Do you even know what Uniqlo is? No? It's OK, because there's literally only one location in the entire state.
A recent article from
Business Insider
attempts to identify each state's most popular "department stores, clothing stores, and big box store chains" by using arguably the dumbest methodology in existence, Foursquare.
According to the incredibly misinformed article, "Foursquare looked at the average number of visits per store in each state to determine its ranking. That allowed for some smaller chains like Uniqlo and Fred Meyer to beat out Walmart and Target in some states."
So basically, because some people who use Fourquare checked in to Uniqlo in Disney Springs, the store is now the "most popular store in Florida." That's like saying the most popular pizza place in Orlando is the Pizza Hut Express inside the Target on Colonial Drive because a ton of people walk by it every day.
Uniqlo – which, don't get me wrong, is a fine department store – may very well be the most visited single store in Florida (according to the people who check in on Foursquare), but it is without a doubt the least deserving of that headline.
If you've spent more than five minutes in Florida, you can probably think of a few.