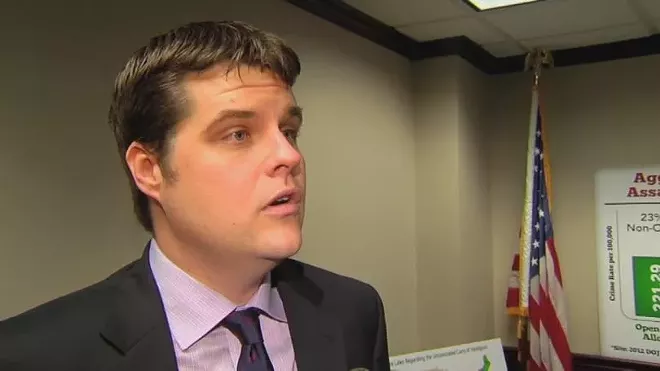 One is the loneliest number — and in this case, that loneliest number is Rep. Matt Gaetz, R-Fort Walton Beach.
On Dec. 19, Gaetz cast the lone "no" vote on a widely bipartisan human trafficking bill that passed unanimously through the U.S. Senate in September before sailing through the House by a count of 418 to 1.
The legislation — the Combating Human Trafficking in Commercial Vehicles Act — is an attempt to give the federal government more resources to combat the sex trade in the U.S., such as a human trafficking prevention coordinator at the U.S. Department of Transportation and a committee in the department to help develop best practices to fight human trafficking.
The bill was co-sponsored by both of Florida's U.S. Senators: Democrat Bill Nelson and Republican Marco Rubio.
Following Gaetz's questionable no vote, real estate developer Cris Dosev — Gaetz's challenger in the 2018 Republican primary — raised his own doubts about the congressman's decision.
"That Matt Gaetz could vote against a law to fight human trafficking and sex slave trade is beyond comprehension," Dosev says in a release. "What was he thinking? ... Near unanimous support on this should be a clear indication that the American people will not tolerate human trafficking."
Gaetz's thinking, however, was as simple as spelling G-O-P: Less government is good government, even if it means — in this instance — the further proliferation of human trafficking.
On
Facebook Live
, from the comfort of his parents' living room in Walton County, Gaetz further defended his vote by saying, "Unless there is an overwhelming, compelling reason that our existing agencies in the federal government can't handle that problem, I vote no because voters in Northwest Florida did not send me to Washington to go and create more federal government."
Gaetz continues: "If anything, we should be abolishing a lot of the agencies at the federal level like the Department of Education, like the EPA and sending that power back to our state governments."
But if you know anything about Gaetz, it's the fact that he's been the gift that keeps on giving in terms of who can raise the most eyebrows in the news cycle — minus President Trump.
He's
repeatedly
called for Special Counsel Robert Mueller to be removed from the Russia investigation, and for Attorney General Jeff Sessions, who has recused himself from the investigation, to get more involved.
As if that's not enough reason for skepticism, one of Gaetz's aides
wrote
a bill with help from a conspiracy theory subreddit devoted to white nationalism and Trump.
And he's even gone as far as to try to push legislation that would
abolish
the EPA, even though he recently joined a bipartisan climate caucus.
If there's any sort of silver lining, it's that Gaetz never fails to surprise.