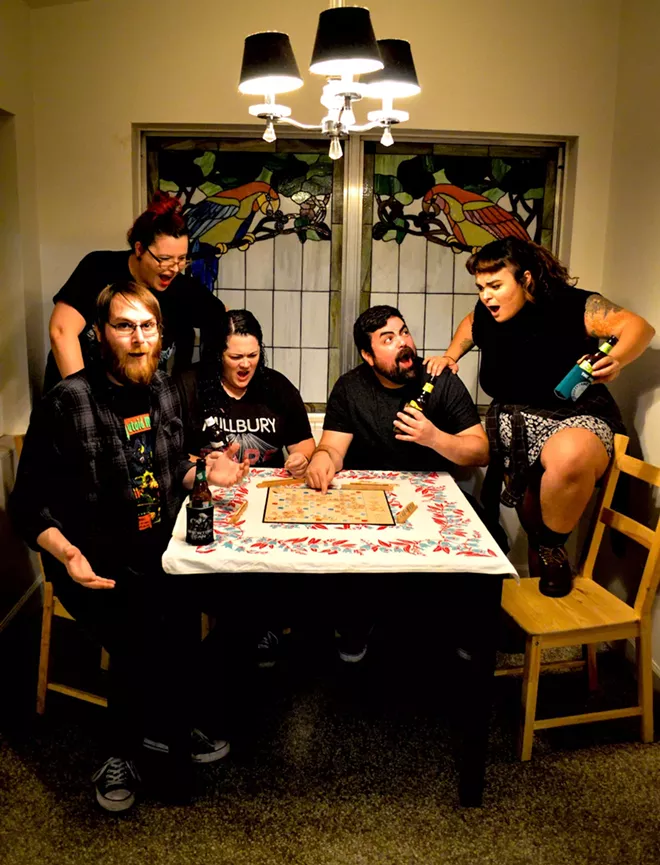 Happy New Year! Welcome back to
Orlando Weekly
's "
Band of the Week
." Every week, we highlight one of our favorite local bands. This week, we're pleased to bring you
Cool Grandma
.
Cool Grandma is playing Friday, Jan.5 at the Falcon with Expert Timing, Pictures of Vernon, and Trendy Dog with Sunglasses.
Just the facts:
When did the band form?

We actually started writing music just between MacGrumbles and Meegan in December 2016 and decided we liked the music enough to make it into something more. By June of 2017, we were in full force quintet mode.
Who's in the band?

Shells Bells - Vocals
MacGrumbles - Guitar/Vocals
Beef - Guitar/Vocals
Meegan - Bass
Vern - Drums
Currently available releases:

Websites:

Facebook
Instagram
Describe your sound in five words:

If Thin Lizzy played punk
Five questions:
What has been your most memorable show so far?

That's a tough one because all of them have been pretty rad, but our minds and souls were melted when we were lucky enough to play with Pinky Doodle Poodle from Japan. Japan guys.... Japan.
Which local band is your favorite one to play a show with?

We have only been playing shows since this past June and have been lucky enough to play with some of our favorite local bands at every single show. I guess if we have to choose just one, Caffiends are definitely top notch fun.
What description gets used for your band that you would most
like to correct people on? Why?

Anything other than Danny Tanner-core would be incorrect, but we also would be willing to accept Screech Punk or Slater Rock. Although, we suppose our description could change depending on what song you listen to so we're open to a range of observations.
What's your favorite thing about being an Orlando band? What's your least favorite? Why?

Our favorite part about being an Orlando band is that there is some great music happening pretty much every night around town, and it truly is a super supportive community. Definitely our least favorite thing is the sweaty summer shows. Nothing is less enjoyable than profusely sweating when you haven't even started playing yet.
Any big news to share?

Right now, our biggest news is that we are going to start recording our new tracks in early 2018.