Photo via Universal Orlando
2017 saw plenty of big additions at the area's theme parks, and come 2019 we'll see the biggest addition likely since the opening of the original Wizarding World area at Islands of Adventure when Star Wars opens at Hollywood Studios.
While 2018 will be nothing compared to what's to come, plenty of big changes are coming to the parks.
Fast and Furious: Supercharged at Universal Studios Florida

The gift shop is already open but
come
April Universal Studios Florida will be home to yet another get shaken around in front of screen ride, this time themed to the blockbuster franchise Fast and the Furious. Similar to the tram tour experience found at Universal Studios Hollywood, the new tram style simulator thrill ride replaces "Disaster!: A Major Motion Picture Ride...Starring You!," which was a very lite change from the opening day Earthquake: The Big One attraction.
The new
Fast & Furious: Supercharged
attraction uses a similar tram ride system to the Skull Island: Reign of Kong ride that opened in Islands of Adventure in 2016. Unlike Kong, Fast & Furious ride will only be indoors with ride vehicles themed to high-speed party busses. The ride sounds absolutely ridiculous but Fast and Furious is one of the biggest film franchises of all time, so this ride is bound to be popular. Luckily, it'll have a virtual queue similar to that of the Fallon ride. The photo area at the ride's exit will feature a dance party atmosphere and cars from the film franchise. If there's anything tourist love its photo ops and dance music so this air-conditioned area will surely be a hit.
New nighttime lagoon show at Universal Studios Florida

After a five-year run, the "Universal's Cinematic Spectacular – 100 Years of Movie Memories" lagoon show came to an end in late 2017. The show will feature brand new lighting and special effects along with an expanded list of popular film and television franchises. An exact opening for the new show, which will likely use the current fountains and firework launch pads, hasn't been set but it should open by the summer rush.
Universal's Aventura Hotel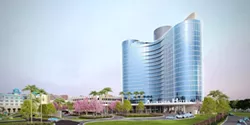 Image via Universal Orlando Resort
The sixth on-site hotel
Aventura
is defined by its sleek glass exterior and its clean, streamlined interior. Shaped like a giant 16-story tall fidget spinner the hotel provides guests with views of downtown Orlando, I-Drive, and even Disney in the distance but the focus here is on Universal's skyline. A rooftop bar will surely become a popular hangout for bloggers and guests alike. The business casual style 600 room hotel is a major step away from the highly-themed resorts Universal and Disney are known for. Here you're not going to see characters, or over the top fictional settings, this hotel is focused on sleek contemporary design while keeping a budget-friendly focus.
Toy Story Land at Disney's Hollywood Studios

Disney World saw a huge push last year with the opening of Pandora: The World of Avatar at the Animal Kingdom. This year we'll see another brand new land come to the Vacation Kingdom but don't expect the non-stop press tour like last year; no, that will be waiting until next year's massive Star Wars: Galaxy's Edge debut both in Anaheim and here in Orlando. The addition this year though will help prepare the resort for next year's huge kick-off that will jettison the resort into its 50th Anniversary in 2021.
After successful realizations of the Toy Story world in both Paris and Hong Kong, the popular
Toy Story Land
will make its domestic debut at Disney's Hollywood Studios this spring. At roughly the same time it'll also debut at Disneyland Shanghai. While there are three other Toy Story Lands around the world will feature similar rides like the parachute drop ride and a Slinky Dog spinner the one here in Orlando will have two brand new rides. The Slinky Dog Dash will be a family-friendly launch coaster. It'll race around the land whizzing past large props themed to oversized toys. A nearby parking garage has a new fence that looks like a giant picket fence.
Photo via Disney Parks Blog
Next to Slinky Dog Dash will be Alien Swirling Saucers. This whip inspired ride is similar to Mater's Junkyard Jamboree in Disney California Adventure or the upcoming Big Hero 6 ride opening at Tokyo Disneyland. It features two large figure-eight tracks with ride vehicles that drift around the corners. Lighting and other effects will help enhance the ride experience in the same vein as Storm Force Accelatron, Islands of Adventure's
tea cup
style ride.
A new entrance for Toy Story Mania, new restrooms, and a new walk-up window counter service food kiosk will round out the land. The two new rides will increase the ride count by 50% at the park, which is currently heavily under construction as Disney works to reimagine it, but this is viewed as more of a second tier that will fill the day for guest in-between Star Wars, Mickey's Runaway Railway, and the nighttime entertainment.
Up-themed bird show at DAK
With Pandora and Rivers of Light both opening last year it's a surprise the Animal Kingdom is receiving anything new this year, but a
brand-new bird show
will debut this spring, replacing Flights of Wonder. The new show will star Senior Wilderness Explorer Russell and his easily distracted canine friend Doug. Flights of Wonder was one of the opening attractions at the Animal Kingdom. Little is known about the new show but with such a quick timeline between the closing of the old show and the opening of the new one little expected to change except for the script and the most basic of set design.
Infinity Falls at SeaWorld Orlando
SeaWorld Orlando will add its first new family ride in five years when it opens
Infinity Falls
, a new river raft ride, this summer. A reimagining of the area around the former Hospitality House will feature South American animals, including sloths. Interactive educational displays and themed retail will give the new land, known as Harmony Village, a rustic Amazonian village feel. The Hospitality House building is staying but has received a complete remodel. Infinity Falls will have guests float past animal habitats, including flamingos while encountering rough waters. An elevator lift, the first of its kind in the nation, will lift guests to the top of a 40-foot drop. The drop is the world's tallest drop on a river rapids ride.
Harmony Village will help enliven an area of the park that has felt dated when compared to the more recent Shark Wreck Reef and Antarctica: Empire of the Penguin. It will also bring some of the first land mammals to the park while adding a thick jungle vegetation in a park that's mostly made up of more open landscapes and flower beds. The area will be heavy on SeaWorld's conservation message but will now bring that focus off of just the saltwater realm into the plight of freshwater habitats as well.
Ray Rush at Aquatica

Replacing HooRoo Run, this new family raft ride adds new to Orlando thrills with three different slide experiences. Water jets help launch rafts into an enclosed tube, from there guests splash through a 360-degree clear sphere, then drop into a manta
ray themed
open-air halfpipe before splashing into the exit pool. The clear sphere is an element never before used at a Florida water park.
With the clear sphere overlooking the entrance toll plaza and the halfpipe visible from many nearby hotels
Ray Rush
should provide unique visuals for the park as it tries to compete against Volcano Bay. HooRoo Run had similar rafts, and the Ray Rush will be using the same tower, but the new slide will surely become a regular feature for Aquatica's marketing.
The Great Lego Race VR Coaster at Legoland Florida
Legoland Florida is jumping into the VR coaster craze this year with
The Great LEGO Race
. Updating the theme of the Project X wild mouse Mack Rides coaster at the park The Great LEGO Race is "first virtual reality roller-coaster designed for children" according to the park. A new interactive queue will help guests prepare for the virtual reality experience where they'll be racing alongside LEGO Minifigures Trendsetter, Pharaoh, Surfer Girl, Wizard and Pirate Captain. Due to VR headset restraints, the experience will only be available to those six and older, but younger guests who meet the height requirement can ride the coaster sans headset.
Margaritaville Resort Orlando
Image via Margaritaville Resort Orlando
The majority of the $750 million, 300-acre
Margaritaville Resort Orlando
will open this year. A few areas, including the Domain apartments, have already opened and a few won't be finished until full build-out in 2022, but this year we'll see the opening of the hotel, the retail village, and a swimming lagoon.
The vacation home neighborhoods are the areas that will take until 2022 to finish but between now and then we'll see a water park roughly the size of Aquatica, a resort-wide water taxi network, and 30,000 square feet of meeting space.
Large new, highly themed signage for the resort will help liven up this formerly plain stretch of Hwy. 192. Plenty of new to Orlando themed dining, and entertainment venues are expected at the retail village including a movie theater and dining venues similar to those found at I-Drive 360 or Pointe Orlando.
Stompin' Gator Off-Road Adventure Ride at Gatorland
Opening roughly three weeks ago, just in time for the Christmas crowds, Gatorland debuted its biggest expansion in the history of the park. A new up-charge ticketing center and gift shop is known as Gator Joe's Adventure Outpost
sets
the mood for this Florida cracker themed $2.2 million park update but the
Stompin' Gator Off-Road Adventure
swamp buggy ride is the focus. The 15-minute upcharge ride gives guests a never before seen the view of previously backstage areas including a gator graveyard, a natural Florida swamp, and a gator pit filled hundreds of real gators.
Three $80,000 custom built swamp buggy vehicles each, seat 12 riders each and are named after a famous Gatorland gator. Early reviews point to Gatorland having a hit on its hands. The expansion also pivots the park away towards more of a full-day theme park-like experience.