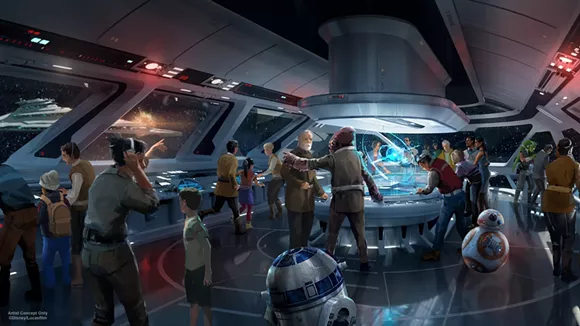 Star Wars Hotel at DHS | Image via Disney
With both the interactive Star Wars multi-day
LARPing hotel resort
confirmed for Disney World and two massive multi-billion Star Wars lands, known as Star Wars: Galaxy Edge, just over a year away from opening, we're starting to have a better understanding of the cutting-edge technology that will be used to transport guests in a galaxy far, far away. Disney has been busy over the past couple of years filing patents for realistic lightsaber-style experiences.
In August of 2016, a
patent was filed
that showed a physical lightsaber which a user could deflect "laser beams" from a drone that would be flying nearby. The drone would shoot a light beam towards the LED lightsaber. The lightsaber then has an internal light beam effect of its own. When combined it looks like the lightsaber deflected the light from the drone. The result requires the room to be foggy for the light beam that the lightsaber projects to properly work. A haptic feedback vest can be worn by guests to provide the sensation of being hit by the light beams that the lightsaber misses.
By the
middle of 2017
, Disney confirmed it will be using the very latest trackless technology for one of the two signature rides for Galaxy's Edge and will track riders performance on the other ride, creating unique custom interactions throughout the land based on a guest's on-ride performance.
Around the same time; the company filed patents for a trackless ride that reads and adjusts the ride experience based on the riders "emotional state." This may be used in unison with another patent filed in 2016 that
tracks a user's gaze
, even "if the lighting conditions vary rather than being fixed." The gaze-tracking technology also can accurately predict what a user is looking at even at over 10 feet away, roughly three times further than many current gaze-tracking technologies.
The patent states;
"Many theme park attractions typically involve interactions between participants and animatronics that are a distance greater than three to four feet. Further, many theme park attractions often involve varying lighting conditions, e.g., varying light intensity, varying colors, etc. It is believed that improvements in conventional face tracking systems are needed to better support interaction between participants and interactive devices within an entertainment environment."
At the same convention where Disney unveiled the new ride vehicles they also, in partnership with LucasFilm and Lenovo, unveiled a new
Star Wars specific AR headset
that allows for fans to have realistic lightsaber battles in the comfort of their own home.
Now the
Orlando Business Journal
has shared details on a new set of patents that look like Disney is wanting to integrate its lightsaber tech with its augmented reality tech. Described as allowing "systems and methods for augmenting an appearance of a hilt to simulate a bladed weapon." The new patent shows the base, or the hilt, of the lightsaber as a physical prop onto which a lightsaber sword would be overlaid using AR technology.
Most of this technology is expected to debut at Star Wars Land opening in both Anaheim and Orlando next year while even more technology being realized when the Star Wars themed multi-day hotel experience opens a few years later.