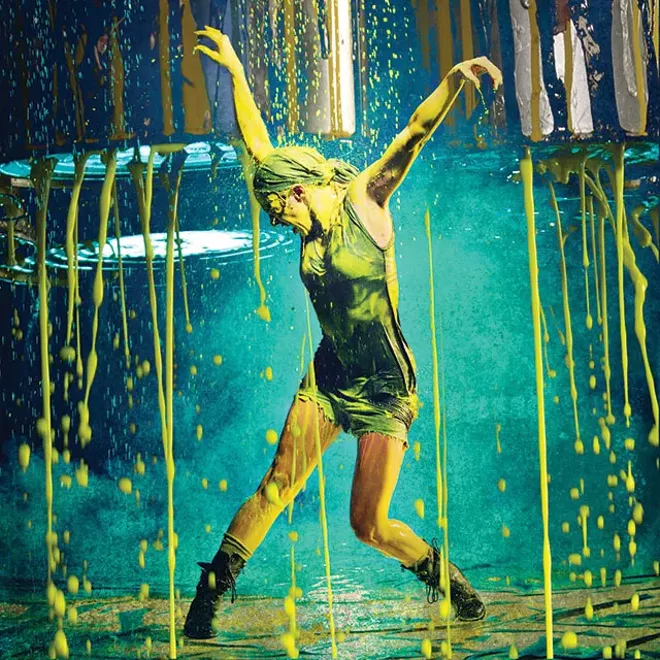 Marc Harmon
Drip
After more than five years and 700 shows, interactive art experience DRIP is shutting down its I-Drive theater. In a statement posted on
DRIP's website
founder and creative director Jessica Mariko stated;
"Closing this location is bittersweet but exciting for our team. We put a huge amount of passion into everything created in that space and have amazing memories from the team interacting with the guests. We had terrific experiences over the last 5 years and are eager to re-focus and inject our creativity into the next project."…"We appreciate our fans and are looking forwards to playing with them again soon."
This is really a move back to what defined DRIP during the first half of its existence. For six years the art troupe performed at pop-ups and special events around town
before settling into
the theater that shares a building with a Denny's and Senor
Frog's
.
The permanent location allowed DRIP to host various special events and corporate parties over the years, including the Underground Vampire Bar each October, various Gay Days events, Local Art Nights, and BASE Body Painting Art Events. DRIP did confirm via
its Facebook page
that some of the events will go on, specifically mentioning the Halloween-focused Underground Vampire Bar.
There's no word on where these events or future DRIP shows will be hosted. Before moving to I-Drive, DRIP performed many of its shows at downtown's Blank Space art venue. That art studio at the corner of Central Boulevard and Rosalind Avenue is now a 7-Eleven.
The I-Drive space did allow for the troupe to have a permanent location to try and build new experiences, but with nightly shows, the troupe once known for spontaneous, surprising shows become more like a Blue Man Group or a Cirque du Soleil. Those comparisons shouldn't come as a surprise as DRIP shared a number of local artists who have had experience with those productions, including one of Blue Man Group's musical directors who wrote the original score created for the I-Drive show.
With live rock music, a very LBGTQ storyline, an 18 and over entrance policy, and show elements that leave viewers looking like they just came from one heck of Holi festival the show was a bit of a gamble for the family-friendly tourist district. It proved that I-Drive entertainment can be sustained by focusing more on the convention crowd than families.
In recent years DRIP has become a hot ticket for many corporate events having developed creative experiences for the likes of Timex, Siemens, L'Oreal, Wrestlemania, and Kawasaki. The removal of the nightly performances will provide DRIP with more ability to focus on the special events that proved successful in its early years while continuing the corporate events. With the Orange County Convention Center alone seeing nearly 1.5 million convention-goers last year, not even counting the thousands of conventions taking place at hundreds of other venues around the tourist district, and with talks heating up of a
$500 million expansion
at convention center the move away from the nightly shows with confused tourists to a special events only model might be a move that even more I-Drive attractions eye in the future.
DRIP will have its final regularly scheduled performance on I-Drive Jan. 27. A special all-ages show, which DRIP does warn will "remain edgy and will be the same show experience," is scheduled for Friday, Jan. 19.
Those under 18 must be accompanied by a guardian. Guests can get $25 general admission tickets (regularly $44) for all remaining shows with promo code:
FINALSPLASH
on
www.ILoveDRIP.com
.