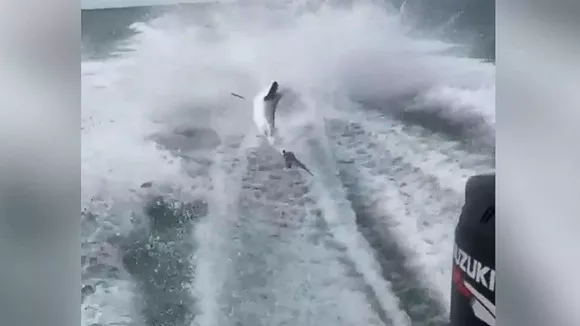 The three men who filmed themselves allegedly dragging a live shark behind a boat at high speeds, have pleaded not guilty.
According to
WFLA
, Michael Wenzel, 21, of Palmetto; Robert Lee Benac, 28, of Bradenton; and Spencer Heintz, 23, of Palmetto all entered not-guilty pleas Wednesday morning for multiple felony accounts, most notably aggravated animal cruelty.
The three men were arrested last December following a four-month investigation by the Florida Fish and Wildlife Conservation Commission and Hillsborough County State Attorney's Office.
The video, which went viral on social media, showed three men smiling and joking while a shark was violently dragged behind their boat. "Look, it's already almost dead," said one man laughing and pointing at the shark.
Wenzel's Instagram account also showed him allegedly manhandling pelicans, catching illegal tarpon, and in one photo, holding a dead dog with a rope around its neck and insinuating that it will soon be fed to sharks.
On a related note, MTV's watch party for Florida-based reality show "Siesta Key" was canceled last July, because the main character
Alex Kompothecras was a frequent fishing buddy of Wenzel
and even appeared in a video allegedly shooting a shark in the gills with a handgun.