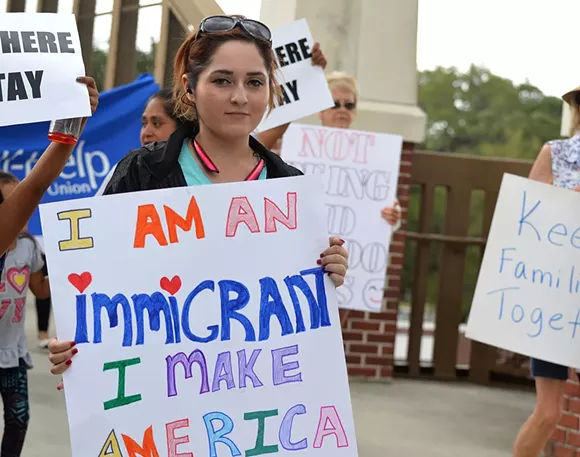 Photo by Monivette Cordeiro
The Republican-dominated House approved a measure banning "sanctuary cities" for undocumented immigrants in Florida, despite no such cities existing in the state.
Sponsored by Rep. Larry Metz, HB 9 requires local and state agencies to comply with federal immigration authorities and prohibits sanctuary policies. A "sanctuary city" is a vague term for a municipal government that doesn't detain undocumented immigrants for federal officials. Judges have found detaining people for deportation proceedings without a warrant is unconstitutional. In November, the U.S. Justice Department
named
29 cities it believed were not complying with federal laws mandating local cooperation, including the only Florida city,
West Palm Beach
. West Palm officials, though, say they don't have any
sanctuary laws
– just a non-binding resolution barring city employees from asking people's immigration status.
Under HB 9, jurisdictions that don't comply get hit with a $5,000 per day fine and no state grant funding for five years (including universities and colleges). Elected officials who violate the law can be suspended and removed from office. Democrats and immigration advocates say the bill could lead to racial profiling and would force local police officers to get proof of immigration status from everyone they arrest.
House lawmakers voted along party lines
71-35
to approve the bill, with all Democrats present voting against the measure. The
Tampa Bay Times
reports the bill will likely die because Senate lawmakers have refused to hear similar proposals in the past two years.
House Speaker Corcoran and other lawmakers have said HB 9 was inspired by the 2015 fatal shooting of Kate Steinle in San Francisco. Anti-immigration activists and President Donald Trump have blamed sanctuary policies for her death because she was allegedly shot by an undocumented immigrant who had previously been deported. A jury recently acquitted the suspect in Steinle's case after agreeing the shooting was accidental.
The ACLU of Florida said HB 9 posed a "grave threat" to public safety and civil rights.
"By forcing local police to become de facto immigration agents, this bill will deter immigrant victims and witnesses from cooperating with police out of fear of deportation," says Kara Gross, legislative counsel for the organization. "It also exposes localities to litigation costs for Fourth Amendment violations and racial profiling by requiring officials to fully comply with all immigration detainer requests, regardless of whether there has been a judicial determination of probable cause —a practice that has been ruled unconstitutional by several courts across the country and a cost taxpayers should not have to undertake."
The Florida Immigrant Coalition went further and called it "immoral."
"It's immoral that legislators elected to protect our children, year after year, continue to propose bills that criminalize immigrant workers who are their parents, and cold-heartedly separate families," said Lourdes Villanueva, board chair of the FLIC, in a statement.