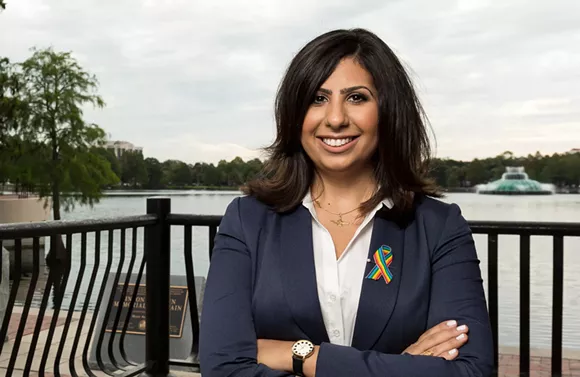 Photo via Anna V. Eskamani campaign
Florida House candidate Anna Eskamani is one of 48 first-time women candidates for public office featured on the cover of the Jan. 29 issue of
TIME
magazine.
The cover story, dubbed "
The Avengers
" by
TIME
correspondent Charlotte Alter, profiled key individuals inspired by the Women's March that have formed a grassroots movement supporting first-time female candidates in their campaigns, all the way from local commissions to the U.S. Senate.
"In 2016, they were ordinary voters," Alter
writes
. "In 2017, they became activists, spurred by the bitter defeat of the first major female presidential candidate at the hands of a self-described pussy grabber. Now, in 2018, these doctors and mothers and teachers and executives are jumping into the arena and bringing new energy to a Democratic Party sorely in need of fresh faces."
Eskamani, who is pictured on the bottom right corner of the
TIME
cover, is the only Democratic candidate in the race for House District 47, which runs through Winter Park, Orlando and Belle Isle. Lauren Baer, a Democrat running for Congress in the Treasure Coast's 18th District, is also featured on the cover.
Eskamani, 27, says she provided a photo to TIME but didn't know she was going to be on the cover – she found out this morning after media outlets contacted her.
"I am so honored to be on the cover of TIME Magazine," she says. "I have been marching for progress my entire life, holding politicians accountable, pushing for people-centered policy, and empowering others to reach their fullest potential. I am standing on the shoulders of so many women before me and am paving the way for women who will come after me. 2018 is only the beginning. Watch us rise."
Eskamani works as the senior director of public affairs and communications at Planned Parenthood of Southwest and Central Florida. Her only challenger in the race for HD 47 so far is Winter Park Republican businessman Stockton Reeves.