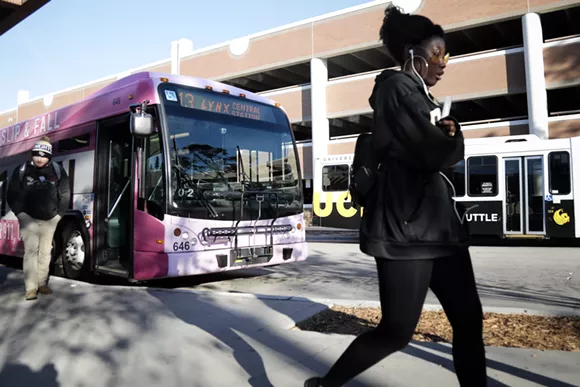 UCF's Parking and Transportation department has struck a new deal with the bus system Lynx, offering UCF students and faculty members free bus rides anywhere in Orlando.
The Lynx partnership "will provide alternative transportation to the main campus, downtown and anywhere that Lynx operates" said Krishna Singh, director of Parking and Transportation Services at UCF. "If it becomes a popular model, it will certainly help with the traffic and parking congestion on campus and around town."
There are currently 18,408 parking spots on the main campus and 725 at UCF's College of Medicine to accommodate roughly 33,000 active parking permits, according to Parking Services data. This deal is one of the many developments the university is making to adjust to a rapidly increasing student body population.
The partnership differs from KnightLynx, the existing joint transportation program from 2011 between UCF and Lynx that shuttles students on and near the main campus.
Valencia College signed a nearly identical deal with Lynx last year for an annual price of $75,000. UCF will pay Lynx roughly $66,000 for the first year beginning in the fall, a price based on the university's annual enrollment numbers. "$1 per student" annually, Rachel Williams, a UCF spokeswoman said in an email. UCF is currently paying a prorated figure until next fall since the program began last December.
Students and faculty, on the other hand, can ride for free by using their UCF IDs. "All you need is a school ID" said Matt Friedman, communications director with Lynx. "It's exactly the same thing as Valencia's."
"When UCF downtown comes online, the Lynx busses will be a great way for students to get to and from that campus" Williams said, referring to the $22 million expansion investment the university made for a campus in Downtown Orlando. UCF estimates nearly 7,700 students will use the campus upon its expected completion in 2019.
Despite its convenience, the plan is still a work in progress for Lynx. There are 54 stops between UCF's main campus and Downtown Orlando, amounting to nearly an hour and 30 minutes of travel time.
To shorten what would otherwise take 30 minutes by car, Friedman says the Central Florida Transit Authority is "reimagining" Orlando's current public transit system in a new plan called Lynx Forward.
Forward
is tasked with updating Lynx's fixed-route services network for "improved frequency and reliability" and creating a 10-year Transit Development Plan that identifies "the transportation needs of the region," according to the campaign's website.
Providing reliable transportation for students will also be a challenge for UCF officials as the university continues to expand throughout Orlando. Sarah Elbadri, an urban planner with Future Orlando, says the overdue partnership is a catalyst for better urban connectivity.
"More bus stops, better bus shelters, and a direct express link from main campus to Downtown UCF are probably next as a result of this partnership" Elbadri said.