As she looked out in the crowd of thousands gathered at Lake Eola Park on Sunday, Sheena Meade said it was time to address the "elephant in the room."
The former Florida House candidate was a speaker during the first women's march that erupted in Orlando in 2017 after President Donald Trump was sworn into office. Central Florida joined millions of people across the country to march in solidarity with women and other marginalized communities that Trump targeted. But a year later at the 2018 Orlando Women's March, Meade was still speaking to an audience of mostly white women.
"When I look around at the crowd today, it looks eerily similar – and that's a problem," Meade said. "There's an obvious and disappointing lack of representation of black and brown women at this event and at this local movement."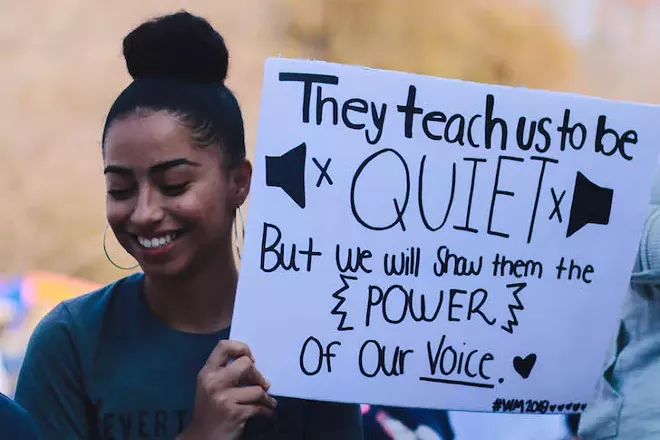 Meade said the absence of black women did not happen because they're less engaged – it occurs when black women aren't included in the organizing process or are given last-minute invitations, a
struggle
that women's movements in other cities have been grappling with.
"If they don't give you a seat at the table, bring a folding chair," Meade said, quoting
Shirley Chisholm
, the first black woman elected to Congress. As Meade spoke, a group of black women walked onto the stage of the Walt Disney Amphitheater, popped open their folding chairs and took a seat.
"Are you your sister's keeper?" Meade asked the crowd. "The moment you say her fight is not your fight, we will lose. If we only march when Trump pisses us off, but we don't march when our Haitian and undocumented sisters and children are hiding in the shadows and being deported – we will lose. If we only unify around resisting Trump and not around uplifting our marginalized and directly impacted sisters – y'all, we will lose."
Photo by Monivette Cordeiro
While the 2017 women's march in Orlando focused on the
shock
of electing a man who once said he grabbed women by the pussy, this year's speakers concentrated on
larger issues
beyond the Trump administration, including restoring voting rights for ex-felons; attacks on abortion and reproductive health; Palestinian rights; and protecting the environment. Central Florida organizers also focused on voter registration drives and collected donations for hurricane victims in Puerto Rico, the U.S. Virgin Islands and the Florida Keys.
Carol Wick, the
former
CEO of Orange County's Harbor House domestic violence shelters, praised the #metoo movement that encourages survivors of sexual assault and harassment to call out their abusers.
"The accusations aren't new," Wick said. "The victims have been crying out for justice for decades about what was happening to them. But they had been silenced and dismissed. #MeToo was a watershed moment for many of us – we remembered vividly the time we were grabbed, the man who exposed himself, the obscene text from a co-worker."
State Rep. Amy Mercado, D-Orlando, urged transgender women, disabled women, bisexual women, Muslim women and all women in general to run for office.
"We need to use our voting power and say it is our time," Mercado said. "We need to bust those doors wide open. Forget glass ceilings – rush the doors. … Make the blue wave of 2018 a blue wave of women."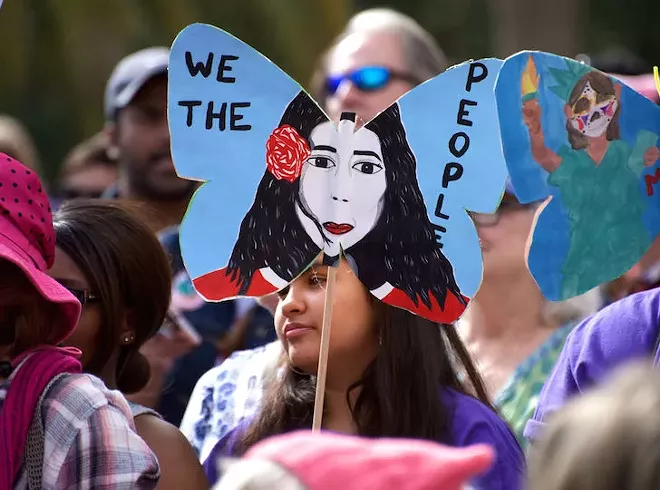 Photo by Monivette Cordeiro
In a particularly emotional moment, Karen Caudillo spoke about the trials her parents went through to provide for their family while being undocumented. Caudillo, a
DACA recipient
who attends the University of Central Florida, spent much of last month up in Washington D.C. trying to persuade Republican lawmakers to pass a clean DREAM Act for undocumented youth.
"I am undocumented and unafraid," Caudillo said. "I march for my mother, who has sacrificed so much to make sure I could be here today. … From the beginning, my mother worked underpaid jobs that subjected her to sexual harassment, low wages, and at times, she was even told she couldn't even have a simple break for lunch. My mother at one point, worked two jobs from 7 a.m. to 12 p.m. at night to make sure I had everything I needed to be successful in my education. To this day, she wakes up before sunrise to go to work – and I can't wait until I can afford to tell her to quit."
Photo by Monivette Cordeiro
Hazel Ademu-John, 49, was brought to the march by her 15-year-old high school daughter and 73-year-old mother. As a woman in corporate America, she said she identifies a lot with the message from the female speakers.
"It's very empowering and positive to be able to participate and stand up for women's rights," Ademu-John said. "With all of these women coming out to speak about sexual assault, I feel it's about time that some are held accountable. … It's really encouraging to see that they're taking a stand and people are actually listening."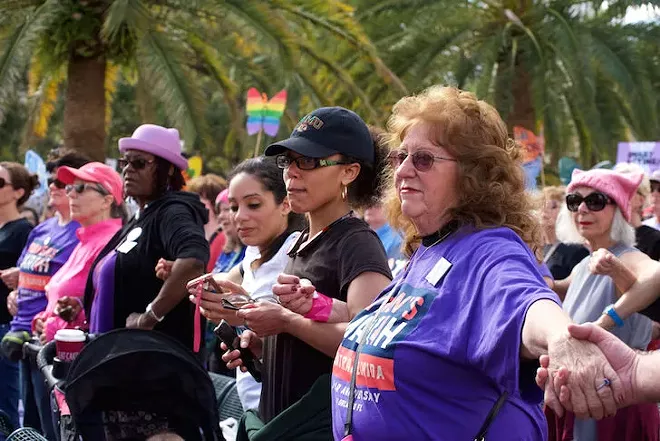 Photo by Monivette Cordeiro