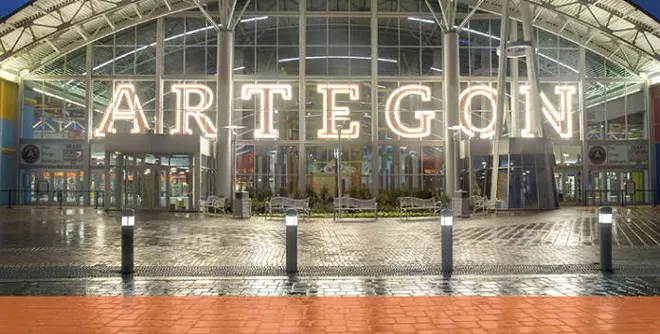 The ongoing saga that is Artegon got a lot more interesting last week when a couple of South Florida family entertainment center co-owners
bought it
and promised big things.
Dezer Development is a South Florida real estate development company known for Trump-branded condo towers and their founder's massive private car collection. Since purchasing the failed mall development on I-Drive, Gil Dezer has been sharing details on what he has planned for it. Dezer was joined by David Goldfarb of PrimeTime Amusements, an arcade game rental company that provides the arcade games at many local attractions, including the Epic McDonald's on I-Drive and Universal Orland.
The two businessmen co-own the
Xtreme Action Park
in Fort Lauderdale. At over 230,000 square feet, it is one of the largest family entertainment centers in the nation.
Last year
when announcing
a new location was in the works, Goldfarb said, "This second Xtreme Action Park will open doors for us like never before. It will be the first crucial step in broadening the Xtreme brand beyond the region, and we're being extra meticulous this time so we don't repeat the same minor mishaps we had when opening the first one." While the name Xtreme Action Park hasn't been confirmed for the new Artegon attraction, the purchase does align with last year's press release confirming a new location.
Also included in the reimagined mall will likely be
a car museum,
showcasing some of the collection of Dezer Development founder Michael Dezer. The collection is currently spread across three museums in Miami, Las Vegas, and at the Xtreme Action Park in Fort Lauderdale. The massive private collection includes the majority of the former Cars of the Stars Motor Museum collection, a now-closed auto museum attraction in Keswick, England. Dezer owns numerous movie cars including some featured in James Bond films, a Ford Anglia 105E used in the Harry Potter films, and an authentic Batmobile.
The Bass Pro Shop and the movie theater are separately owned and will remain open. The blacklight mini-golf Putting Edge and the Fuddruckers will also remain open.
Outside the mall, the focus shifts from Goldfarb's expertise and moves to what Dezer does best. The surface parking lot will be transformed into a collection of new buildings in a mixed-use development, including a possible car-themed condo-hotel, according to the
Orlando Business Journal
.
The focus will be on creating an urban-style development similar to I-Drive 360 or Winter Park Village. One outparcel was recently developed and now houses a Pollo Tropical, while another for a
heliport
with a tour company has been approved but yet to begin construction.
The Artegon location at the north end of I-Drive became even more desirable when a new I-4 flyover was opened last year. It allows guests in the Major Boulevard-area hotels to easily walk to the mall passing another development, the $100-million Grand National development by North American Properties. A Starbucks at that development is well under construction with a Bahama Breeze, LongHorn Steakhouse, and a
160-room Marriott TownePlace Suites
. A second hotel pad and retail are also included in that development.
Dezer Developments has a patented car elevator, the Dezervator, that could be used to allow for even denser development on the Artegon property. That car elevator was used in a Porsche-themed condo development by Dezer, the first time Porsche branding has been used in residential real estate. The
Porsche Design Tower
condo development could give us some indication of what the possible car-themed hotel in Orlando could include.
There's still no telling if Dezer plans to bring their South Florida ultra-luxury style to the Artegon property but the location, less than two miles from Mall at Millenia, is surrounded by developments that are going that way.
A multi-level
Lexus dealership
just opened across I-4 from Artegon and the on-again, off-again megamall project which includes two high-end luxury hotels is just two blocks south. A Ferrari and Maserati dealership is also currently under construction nearby. With I-4 just behind the outlet mall across the street and the Florida Turnpike running along the eastern edge of the property, vertical developments of any real size would come with impressive visibility.
For now, we must wait to see what's next for the seemingly cursed mall.