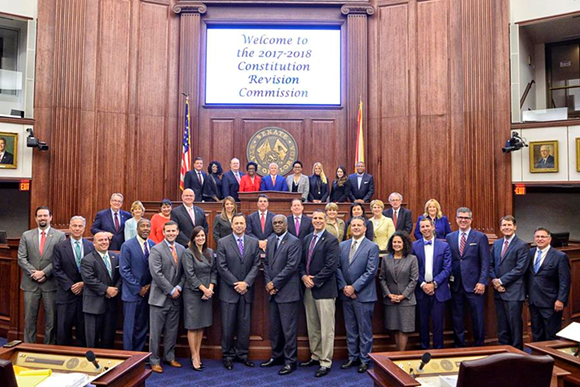 Photo via Photo via Florida Constitution Revision Commission
An amendment proposed by the state's Constitution Revision Commission could erode privacy protections between Florida's government and its citizens, says one of the lawmakers who wrote the state's 1980 privacy amendment.
Sponsored by CRC appointee John Stemberger and drafted by former Florida Supreme Court Justice Kenneth Bell, the amendment proposes to add 10 words to the state's privacy provision: "with respect to privacy of information and the disclosure thereof." But according to Jon Mills – a University of Florida law professor, former Speaker of the Florida House and 1998 CRC appointee – those same 10 words could lead to government intrusion into the lives of the Sunshine State's citizens, particularly in areas like marriage, sexual relationships, activities within the home or medical decisions, such as abortion.
"Florida's Privacy Amendment offers Floridians a shield to protect themselves in a future in which technology and government intrusions are not predictable and frankly, completely unknowable," writes Mills in a report sent to the CRC. "If Florida's Privacy Amendment did not extend protections to personal autonomy and decision making, there is no doubt that Florida citizens would be subject to a higher possibility of governmental intrusion into their private lives."
Even so, Stemberger has claimed that his proposal – Proposition 22 – has little, if anything, to do with the infringement of Floridians' privacy. Instead, in a guest editorial for
Florida Politics
in November, the CRC commissioner says it would merely "require Florida courts to interpret the privacy clause in the manner intended by its original drafters and the people who adopted it."
Mills – one of those "original drafters" – disagrees, however.
Adding to the dissent, Stemberger's stance has been enough to spur a growing amount of criticism aimed towards both him and his proposal, and increasingly so from groups like the First Amendment Foundation and the ACLU of Florida.
Howard Simon, ACLU of Florida executive director, says Stemberger's intent to repeal the provision that's been used to protect Florida women in recent decades is evident, such as how that same privacy provision was used by Leon County Circuit Court Judge Terry Lewis in Tallahassee earlier this month to rule a 2015 law abortion access unconstitutional. That same law had previously required women to wait 24 hours and see a provider twice before undergoing an abortion.
"It is clear that he is bent on withdrawing and repealing the state's constitutional right of privacy that has been used in a number of areas, but has significantly been used right now to protect the right of women ... to make decisions about their reproductive healthcare, including the right to terminate a pregnancy by means of abortion," Simon says.
Simon adds: "What the Commission needs to understand, if they're going to look at this honestly, is: What are the unintended consequences of doing what [Stemberger] wants to do?"
To be clear: Proposition 22 is, in part, a goal among anti-abortion activists in Florida who'd like to see the potential amendment undo a 1989 Florida Supreme Court decision that struck down the state law requiring parental consent before a minor could terminate her pregnancy.
Stemberger – a trial attorney and president of the Florida Family Policy Council, an anti-LGBTQ and anti-abortion group – has a history of attacking abortion access, as well as any Floridian's right to privacy that falls outside of his personal ethical standards.
Most recently, in August 2017, he made headlines when the FFPC pushed several statements in support of the transgender bathroom ban, some of which called for an end to the so-called "bullying" of Gov. Rick Scott when activists pressed the governor on his promise to sign an anti-discrimination order for LGBTQ state employees.
The CRC is a 37-member committee that convenes to review and propose changes to the Florida Constitution every 20 years, with commissions having convened in 1977-78 and 1997-98 prior to the CRC that's currently underway. Proposed amendments can be submitted by the body of appointed commissioners or by the general public. From there, all potential amendments approved by the CRC go directly to the ballot so voters can decide for themselves in the following election, which, in this case, takes place in November 2018.
The League of Women Voters of Florida has served as a watchdog group throughout the current CRC process. In describing the legislative weight and importance carried by the CRC, the president of the LWVF, Pamela Goodman, says, "These amendments are the last things on the ballot, but they can affect people the most. They can affect people way more – quite frankly – than who's elected governor of the state."
"What makes the commission so extremely powerful is that while the other two methods of putting initiatives on the ballot have to go through some sort of secondary approval process," Goodman continues. "the CRC, what they come up with goes directly to the ballot. There is no second party, no other form of our government, be it judicial or the Legislature or any other body, that has to approve what ends up on the ballot."
"It's the express lane from this commission to – boom – in November on the ballot with the people."