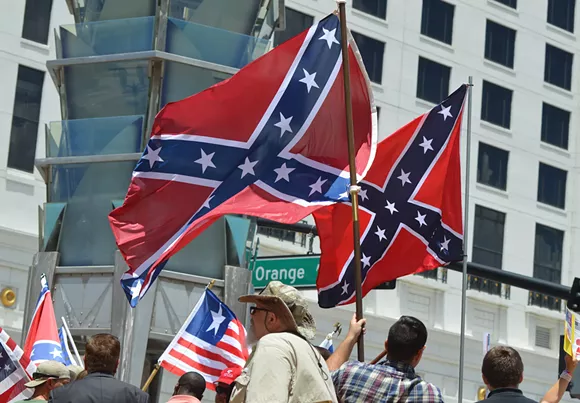 Photo by Monivette Cordeiro
A protest by Confederate supporters outside Orlando City Hall in 2017.
A white supremacist organization involved in the violent Charlottesville demonstrations last year is planning to hold its first rally of 2018 in Tallahassee this weekend.
The
Tallahassee Democrat
reports League of the South leaders say they will hold a demonstration at the Old Capitol building on Saturday, Jan. 27. The organization encouraged members on its website to "plan on being at this event to show your support for the growing Southern nationalist movement!"
The
Southern Poverty Law Center
says League of the South is a "neo-Confederate organization that seeks to establish a white, Christian ethnostate." Past rallies by the group have focused on immigration, federal elections and Confederate memorials. The SPLC
said
Florida League of the South members were part of the various white supremacist groups who participated in the "Unite the Right" rally in Charlottesville last August. Dozens of people were injured in the protests and at least one person died after a car drove into a crowd. The Florida League of the South is currently chaired by
Michael Tubbs
, a convicted felon whose followers brag about "stockpiling weapons and ammunition for an impending civil war," according to to the SPLC.
The
Democrat
reports that the Florida Department of Law Enforcement has confirmed the group is holding a rally, and state workers have been warned to avoid the area.