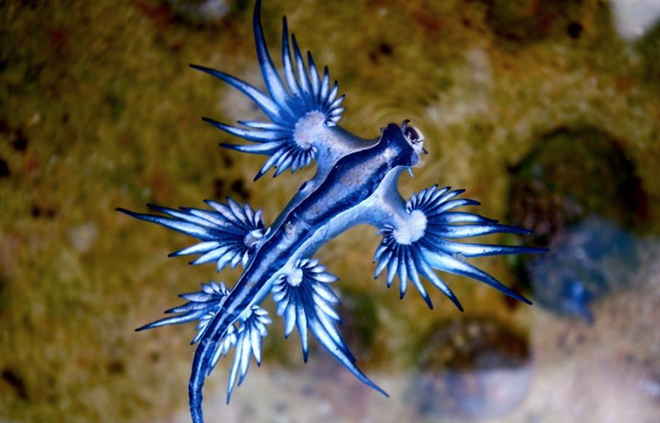 Screen grab via Twitter / @Oceana
Just when we thought we'd seen it all, blue dragon sea slugs wash ashore in Boca Raton.
That was the case for one couple as they strolled down the shore of Red Reef Park, according to a report from the
Sun Sentinel
. They expected to find seashells, as lovers sometimes do, but instead they stumbled across a few small creatures born of the wide-open sea – blue dragon sea slugs, a little fucker of a species that uses its venom to kill larger animals, such as the
Portuguese man-of-war
and the similar
by-the-wind-sailor
, before either eating them or using their prey's bodies as a weapon of defense.
Similar to President Donald Trump's hands: they're small but destructive.
"As they devour the tentacles, they can ingest the stinging capsules without triggering them and store them in these finger-like projections for their own protection," Charles Messing, professor of Nova Southeastern University's Halmos College of Natural Sciences and Oceanography, told the
Sentinel
.
They look pretty cool too.