THIS LITTLE UNDERGROUND
Boytoy, Timothy Eerie and Yogurt Smoothness, Will's Pub, Jan. 31

Jen Cray
Boytoy at Will's Pub
On their latest Orlando stop,
Boytoy
– the Brooklyn band that's now multi-state like many bands are becoming in this modern era – showed that they're sharpening their aesthetic like a knife.
Jen Cray
Boytoy at Will's Pub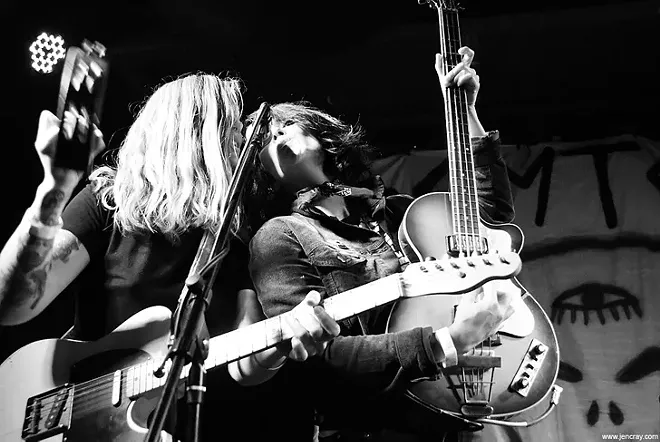 Jen Cray
Boytoy at Will's Pub
Jen Cray
Boytoy at Will's Pub
Their sound has always been a distilled thing. A little '90s alt-rock and a lot of '60s garage attitude, it's economical rock & roll that keeps a simple focus on fun and fuzz. But while they stayed cool and in the pocket like always, their live advance traded in the easy vibes and kept it tough. On stage, they're becoming
total bosses.
Jen Cray
Boytoy at Will's Pub
It's been a long, strange trip with opening local band
Timothy Eerie,
and not always in a good way, as evidenced by my roller-coaster coverage of them. They started out
good
and then got increasingly
boring
by worshiping too literally at the
psych-rock altar.

Jen Cray
Timothy Eerie at Will's Pub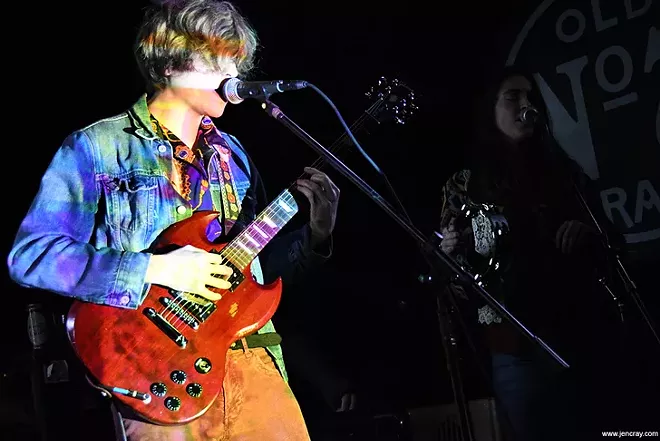 Jen Cray
Timothy Eerie at Will's Pub
Now, it seems they've pivoted back to their early promise, shedding much of their sophomoric hippie baggage. Back down to a quintet from a clan that once bloated to nine members, they've returned to
real rock
with frontman Casey Lerman rediscovering his guitar guts and delivering some good acid burnouts. Nice to see this band get up on their literal and figurative feet again and get back to the power that first distinguished them.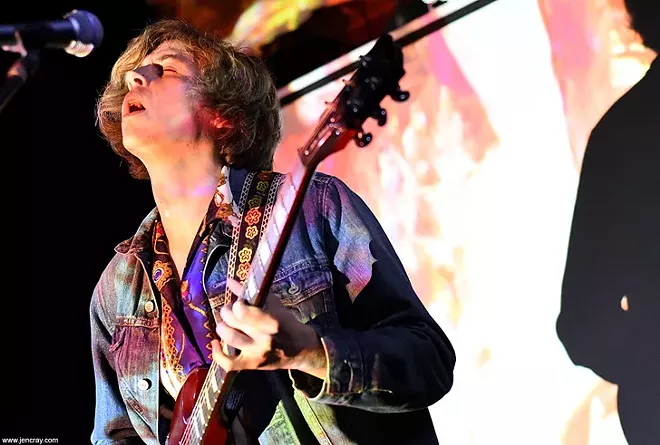 Jen Cray
Timothy Eerie at Will's Pub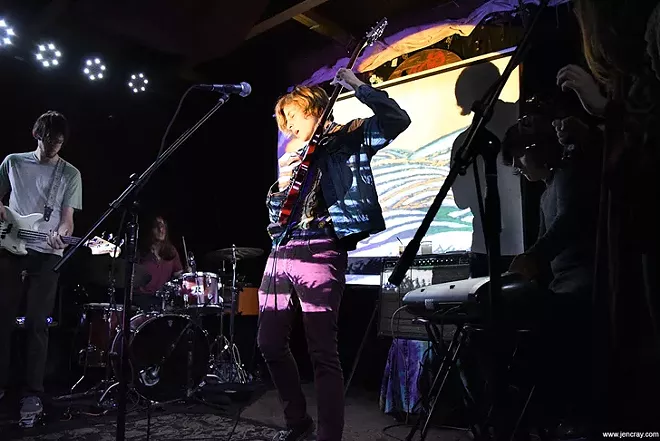 Jen Cray
Timothy Eerie at Will's Pub
Speaking of getting back, Orlando duo
Yogurt Smoothness
also popped up on this bill. Longtime local torchbearers of the great
two-piece rock band
tradition, they've been relatively quiet since their salad days of championing the format with the biannual
Two Piece Mini Fest
that ran at the early part of the decade. After seeing them again for the first time in probably years, it's nice to see that these guys haven't cleaned up their act and instead have just dug their heels in deeper, sounding even more bruising than before.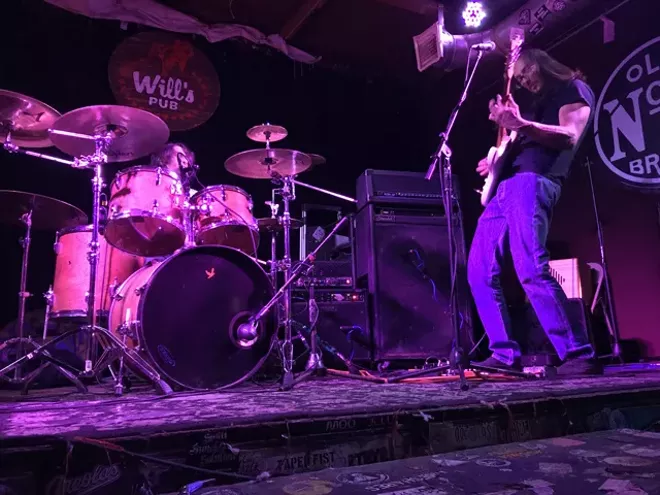 Bao Le-Huu
Yogurt Smoothness at Will's Pub
Yogurt Smoothness are
grunge
in the most elemental, tormented and desperate sense, a throwback to the underground roots that only true heads know about and not the bullshit crossover stuff that ended up dominating the airwaves and killing alternative rock. These guys were doing the '90s before it was cool again. And if they were scrappy when they first emerged, now they're nastier with the goods to really sludge it out.
Bao Le-Huu
Yogurt Smoothness at Will's Pub
But let's talk about the venue itself. Amid all the talk about this historic high tide of fresh new music spots rising, one venerable institution that's not sitting idly by resting on its street cred laurels, though it could, is
Will's Pub.
Anticipating the oncoming surge of competition, Will's is visibly stepping up its game, and the sights are set on
atmosphere.

Probably the most conspicuous upgrade so far is the
huge video screen
in the front game room. Besides opening a whole new visual potential there, it now
simulcasts all performances
and projects almost life size, which will pay major dividends at sellout shows like the upcoming
Big Freedia
concert (Mar. 31).
But less obvious, though just as experientially critical, is the more thoughtful
light balance
throughout the various rooms of the venue. Pay attention next time you're there and you'll see. The mood is much deeper and places the emphasis where it should be: the music room. All this means is that the energy is concentrated more optimally and everyone looks sexier. Win-win. Look for even more vibe-enhancing measures to roll out soon, including
post-show music programming
that'll ensure the party doesn't stop after that last encore. Even further evidence that this old dog has some fun new tricks is the unveiling of
Uncontrollable Urge,
a new Sunday dance night featuring classic alternative rock that will officially launch in March but is being sneak-peaked on Feb. 12.
///////////////////////////////////////////////////////////////////////////////////////
This Little Underground
is Orlando Weekly's music column providing perspective, live reviews and news on the city's music scene.

Follow Bao on Twitter (@baolehuu)
Email Bao: baolehuu@orlandoweekly.com