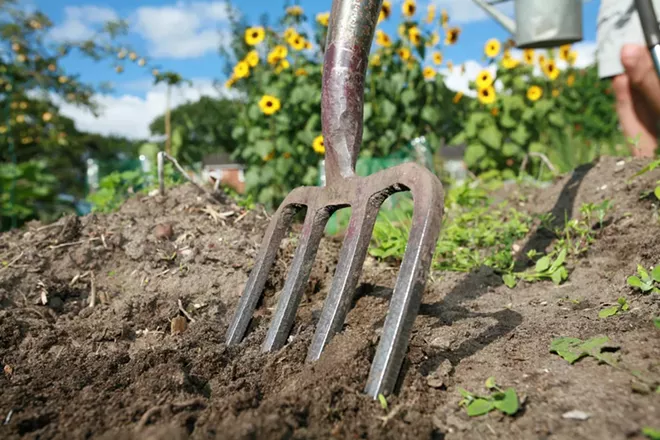 Pink flamingos, garden gnomes and trolls? No problem. Tomatoes, kale and spinach? Not so much.
Growing your own food may be as American as apple pie, but it's a no-no for gardeners who happen to live in Miami Shores and want to plant veggies in their own front yard.
Hermine Ricketts and Laurence Carroll are asking the Florida Supreme Court to resolve a long-running dispute with the Village of Miami Shores, which passed an ordinance four years ago banning front-yard vegetable gardens like the one the couple had maintained for nearly two decades. The ordinance also allowed the village to impose fines of up to $50 per day for noncompliance.
Ricketts and Carroll turned to the state high court, which hasn't decided yet whether it will accept the case, after two lower courts sided with Miami Shores and upheld the regulation.
In the meantime, a powerful state senator has taken up the couple's cause, with a proposal that would prohibit local governments from telling homeowners where they can plant their veggies. And Tuesday, a Senate committee backed the proposal.
"Thomas Jefferson would roll over in his grave if he knew that code enforcement officers would one day require Americans to dig up and throw away vegetables grown on their own property," Senate Appropriations Chairman Rob Bradley, a Fleming Island Republican and sponsor of the measure, told The News Service of Florida in a text message Tuesday.
Fearing they could not pay what might have been a hefty fine while they appealed the local law, Ricketts and Carroll uprooted their garden —- which they had tended for 17 years —- after the Miami Shores regulation went into effect.
Lawyers for the couple argued that the ordinance violated their constitutional rights to due process and equal protection, as well as two of their fundamental rights under the Florida Constitution —- the right to acquire, possess and protect property and the right of privacy.
But in November, the 3rd District Court of Appeal upheld a lower court decision backing the Miami Shores regulation. Relying on a previous Florida Supreme Court ruling, a three-judge appellate panel found that "even constitutionally protected property rights are not absolute, and 'are held subject to the fair exercise of the power inherent in the state to promote the general welfare of the people through regulations that are necessary to secure the health, safety, good order, (and) general welfare.' "
The ordinance only bans vegetable gardens in front yards, meaning homeowners are free to grow veggies anywhere else on their property, the court wrote.
And the appellate court also found that, since "the ordinance is rationally related to the village code's design standards and landscaping regulations," the "cultivation of plants to be eaten as part of a meal, as opposed to the cultivation of plants for ornamental reasons," might present an aesthetic threat justifying the ban.
But state Sen. Aaron Bean —- who presented the bill Tuesday on behalf of Bradley, who was ill —- described the regulation as an affront to basic American values.
"That's what we've come to. Homegrown gardens are outlawed in our front yard," Bean, R-Fernandina Beach, told the Senate Community Affairs Committee.
Local governments "don't have the right to tell Floridians that they can't have a garden," Bean added.
The proposal would establish that the "Legislature intends to encourage the development of sustainable cultivation of vegetables and fruits at all levels of production, including for personal consumption, as an important interest of the state."
Counties, municipalities or other political subdivisions would be prohibited from regulating "vegetable gardens on residential properties" and any regulation imposing restrictions on vegetable gardens would be "void and unenforceable." The proposal includes exceptions for regulations related to water use during drought conditions, fertilizer use or control of invasive species.
Before the committee's 5-1 vote approving the measure, Bean also noted that it was "very ironic" that the bill's number is SB 1776.
"It's America. Let's join together and say we are preserving our country's core values, and that is the right to grow our own food," the senator concluded.
But David Cruz, legislative counsel for the Florida League of Cities, told the Senate panel that local governments ought to be able to impose certain restrictions on gardens.
"Let me start off by saying I love America as much as the next guy, but our members do have some concerns with the proposal that's before us this morning," Cruz said.
Local governments may want to establish regulations that would "maintain property values high at the local level," Cruz said.
Sen. David Simmons, R-Altamonte Springs, suggested that the language in the proposal should be softened to allow "reasonable" regulations.
"Any one of us in any of our neighborhoods would hate to have an entire front yard done as a garden that's got corn that's 10 feet high," Simmons said.
Miami Shores lobbyist Fausto Gomez told the committee the village passed the ordinance after Ricketts and Carroll expanded their garden beyond their yard to a swale, which Gomez said is public property.
Neighbors "basically said we don't want to live in an agricultural area," Gomez said.
Ari Bargil, a lawyer with the Institute for Justice who represents Ricketts and Carroll, told The News Service of Florida that Bradley's bill appears to be "a direct repudiation" of the Miami Shores regulation.
"I think what this bill reaffirms is that people throughout the state think that what the Village of Miami Shores is doing is outrageous," Bargil said in a telephone interview.
According to Bradley, "a free society should allow an American who owns a plot of land to grow their own food on that land."
Bargil called Bradley's reference to the nation's origins "spot on."
"People have been growing vegetables on their property since the dawn of modern human civilization and it is something that is very central to our American ideal of self-sufficiency and self-determination," Bargil said.
Bradley's bill lacks a House version, but as the progeny of the powerful chairman of the Senate Appropriations Committee, that doesn't mean the proposal is doomed.
For now, the front yard of the Miami Shores couple looks nearly identical to how it appeared before they yanked out the dozens of varieties of vegetables they once cultivated.
"They have the exact same garden they had before, minus the offending vegetables. It's essentially the same … but it is fully compliant," Bargil said.