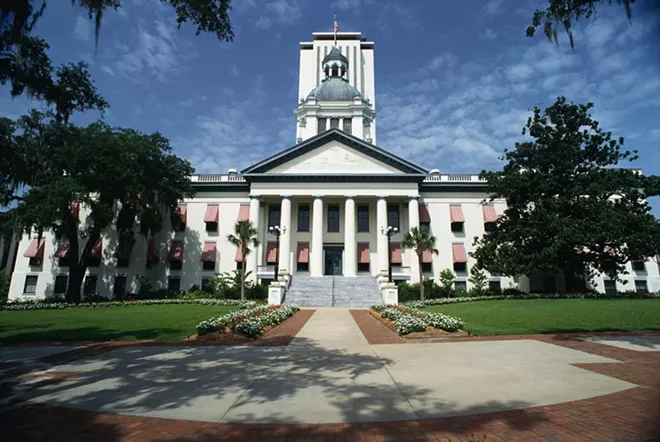 Florida House lawmakers approved a nearly 200-page omnibus education bill Thursday with a few lines tucked inside that attacks teachers unions.
The Republican-led House passed the bill 66-43 and linked it to $21 billion public-school portion of the approved $87.2 billion budget to the passage of the omnibus education bill.
HB 7055
is a long read, but it's worth your time. Highlights from the bill include:
- A
union-busting measure
that would decertify teachers' unions and force them to disband if membership falls below 50 percent of the employees they represent. This proposal solely targets teachers union.
HB 25
, a similar measure proposed by state Rep. Scott Plakon, R-Longwood, requires a similar decertification of all unions except unions representing police, firefighters and correctional officers (usually GOP-friendly organizations dominated by men). If it sounds pretty biased, it's because it is – Plakon even admitted as such when he talked to Scott Maxwell at the
Orlando Sentinel
. The Florida Education Association points to a
report
from the Center for American Progress that found Wisconsin teachers saw their salaries fall by about $11,000 after the state restricted collective-bargaining rights.
- The "
Hope Scholarship
" plan, a voucher-like program that allows bullied or abused public school students to transfer to private schools. Students receive scholarships, which are paid for by people who buy cars making voluntary contributions in return for a tax credit. This darling of school choice advocates would divert more than $40 million in sales taxes, according to Rep. Loranne Ausley, D-Tallahassee. "These programs are slowly killing our traditional public schools," Ausley said, according to the
News Service of Florida
. "The proverbial death by a thousand cuts."
Rep. Carlos Guillermo Smith
, D-Orlando, called it "another voucher scheme aimed at privatizing our public education system." Last year, a
Sentinel
investigation found Florida private schools "will collect nearly $1 billion in state-backed scholarships this year through a system so weakly regulated that some schools hire teachers without college degrees, hold classes in aging strip malls and falsify fire-safety and health records." A different measure of the omnibus education bill would strengthen state oversight of publicly funded private-school scholarship programs.
- A $9.7 million program for low-performing elementary student readers who need private services.
- The establishment of a "Medal of Honor Day" on March 25 to "honor recipients of the Congressional Medal of Honor who distinguished themselves through their conspicuous bravery and gallantry during wartime, and at considerable risk to their own lives, while serving as members of the U.S. Armed Forces."
- A ban on certain lobbying activities by former appointed school superintendents.
- A provision requiring a reduction in school-board member salaries not aligned with teachers starting pay.
- A statewide expansion of the "Principal Autonomy Program Initiative," which allows highly effective principals to run their schools as well as other schools to improve student achievement.
"HB 7055 does nothing to free public schools from the restrictive policies imposed by the high stakes testing environment of Florida's accountability system, something teachers and parents have repeatedly requested," the FEA said in a
statement
.
The
Tampa Bay Times
reports that HB 7055 seems like a hard sell in the Senate. Sen. Rob Bradley, a Fleming Island Republican who chairs the Appropriations Committee, said he "[objected] to the House's hardball with the budget."
"You've made the stakes (about) are we going to get to go home on time and have a budget completed, rather than if this is a good idea or not for the people of the state of Florida?" Bradley told the
Times
.