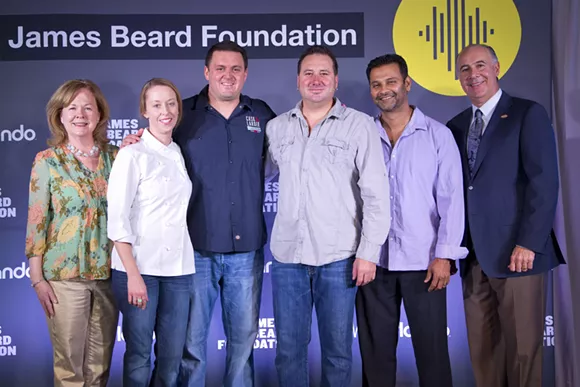 Image courtesy Visit Orlando
2014 James Beard Award semi-finalists, announced at East End Market, included James and Julie Petrakis, Henry Salgado, and Hari Pulapaka. No Central Florida chefs are semi-finalists for the awards this year.
What do local Central Florida chefs Henry Salgado, Scott Hunnel, Kathleen Blake and Brandon McGlamery all have in common? They've all been nominated in the past for the Best Chef: South category at the
James Beard Foundation Awards
.
In the past, Central Florida has had a solid contingent each year of local chefs nominated for the category. No winners, but still, some nice recognition for the culinary hub Orlando and surrounding areas are becoming.
This year, zero chefs from Central Florida are semi-finalists for the JBFAs. None.
This is surprising, considering the kind of press Orlando has been getting nationally regarding our food scene. The
New York Times
recently called out several local hot spots for fantastic food in their
"36 Hours In..." column featuring Orlando
, as well as naming Disney Springs to their
"52 Places to Go in 2018" list
precisely because of the food there.
Out of the 20 semifinalists, five are from Florida, but all from the Palm Beaches, Miami and one from St. Pete.
It's a shame that the leaps and bounds we've made in the last 10-plus years are going unnoticed at the Oscars of the food world.
In fact, the James Beard Foundation even announced its list of semifinalists at East End Market back in 2014. That's how important they thought Orlando was at the time.
That year, four Central Florida chefs were nominated: Hari Pulapaka of Cress Restaurant, Henry Salgado of now-closed Spanish River Grill and Txokos Basque Kitchen, and James & Julie Petrakis of The Ravenous Pig.
Times have, apparently, changed.
In the meantime, go out and patronize some of our fine eating establishments and celebrate our chefs and restaurateurs who are working to create a culinary scene worthy of national recognition.
This year's James Beard Foundation Award winners will be announced on May 7 in Chicago.