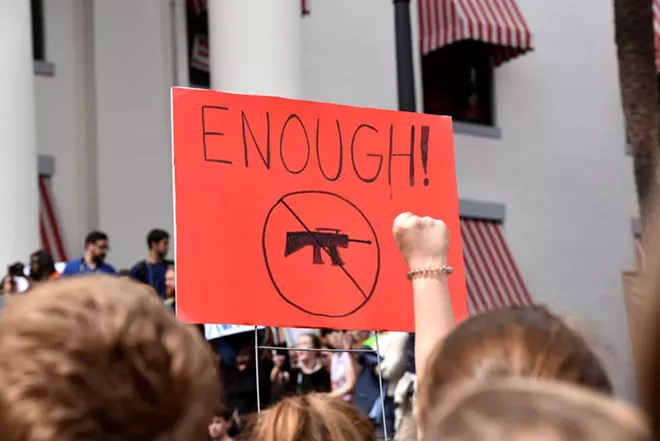 Photo by Monivette Cordeiro
Thanks to lobbying efforts from the NRA and the constant loosening of restrictions from Republicans, purchasing a gun in Florida is incredibly easy, which is wild because it's actually harder to tie the knot than to buy a weapon of war.
Last week, a 19-year-old used a legally purchased AR-15 assault rifle to murder 17 of his classmates and teachers at Parkland's Marjory Stoneman Douglas High School.
Just a few days later, while survivors from Stoneman Douglas watched from the balcony, House Republicans
voted down a motion
to even debate whether or not the state should regulate the sale and possession of semi-automatic rifles and extended magazines.
Out of the 10 most deadly mass shootings in modern U.S. history,
six involve the AR-15
, and it should come as no surprise they also have the highest death tolls.
Here in Florida, you don't need a permit or license, and you don't even need to register your gun, according to the
Giffords Law Center to Prevent Gun Violence
and the National Rifle Association's Institute for
Legislative Action.
If you're 18 or older, you can also buy as many guns as you want at one time, which is exactly what the Stoneman Douglas shooter did.
Oddly enough, the whole process of buying a weapon that leaves organs looking like "
an overripe melon smashed by a sledgehammer
" is simpler and quicker than getting hitched in Florida.
Residents in Florida either have to attend a premarital course or wait a mandatory
three days before the marriage license takes effect
, which is interesting because if you don't have a felony record or a domestic abuse conviction, you can stroll into a gun store, wait a few minutes to clear a background check, and walk out with an AR-15 style rifle.
At least in Florida we force people to wait three days to buy a handgun.
So, to be clear, it's somehow a bigger hassle to get married in Florida than to amass an arsenal of assault weapons, as seen in the Stoneman Douglas shooter's Instagram account.
Seems perfectly fine.