Photo by Monivette Cordeiro
More than two dozen Florida legislators, all rated A or A-plus by the NRA, are running unopposed for re-election, but a national, progressive-friendly group has a message for them: It won't come easy this time.
Run for Something
, a group that bills itself as dedicated to supporting progressive candidates for state and local office, took out a
full-age ad
in the Sunday edition of the
South Florida Sun-Sentinel
calling on Floridians to run against NRA-backed state lawmakers in the upcoming 2018 elections.
"These 25 state legislators are running unopposed this November – and they're complicit in the gun violence in our community," the ad reads. "Hold them accountable. Run against them. We will help you."
The lawmakers on the list: State Reps. Jayer Williamson, Mel Ponder, Brad Drake, Halsey Beshears, Cord Byrd, Jason Fischer, Cyndi Stevenson, Travis Cummings, Stanley McClain Jr., Ralph Massullo Jr., Jake Raburn, Chris Sprowls, Julio Gonzalez, Michael Grant Jr., Ray Rodrigues, Dane Eagle, Heather Fitzhagen, Rick Roth, Jose Oliva, Bryan Avila and Holly Raschein, and state Sens. Aaron Bean, Jeff Brandes and Kathleen Passidomo.
Run for Something, a political action committee, was founded by former Hillary Clinton campaign staffer Amanda Litman with the idea of funding and supporting young, progressive candidates for elected offices.
"Donald Trump is president, so throw everything you know about politics out the window," Run For Something's website reads. "You're qualified to run for local office – we're here to help."
The ad is pictured below: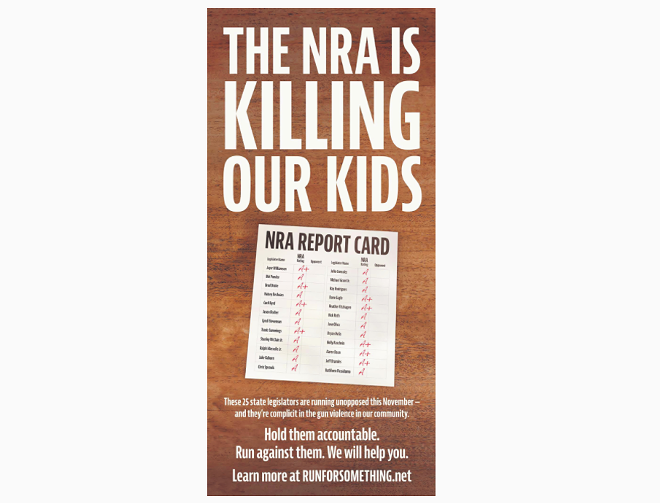 Screen grab via Tampa Bay Times