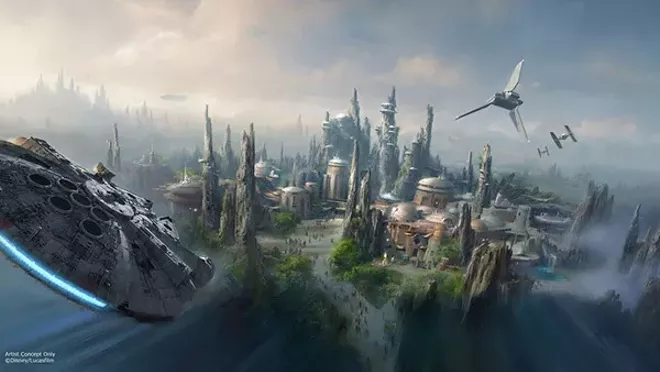 As Disney prepares for next year's opening of Star Wars: Galaxy's Edge in Anaheim and Orlando we're starting to get some of the first indications of how the company plans to deal with the massive crowds expected for the long-awaited Star Wars lands.
The Hollywood Studios version of the land will open a few months after the Disneyland version, meaning the crowds in California are expected to be worse than here.
To help deal with this influx,
rumors now point
to FastPasses not being available to guests in Star Wars land for the foreseeable future. In Disneyland, what is known as "legacy FastPass" is still being
used.
This system requires guests to visit a kiosk near the ride earlier in the day to receive a pay FastPass that they use to access the shorter line later on. A system similar to Orlando's FastPass+ was rolled out at the Disneyland Resort last year. This system, known as
MaxPass
, allows guests to use an app to reserve same day FastPasses with more becoming available as the guest uses their previously reserved ones. Along with FastPass+ like ride reservations,
MaxPass also includes
unlimited Disney PhotoPass photo downloads. Unlike FastPass and FastPass+, MaxPass does cost extra. Current rates range from $10 for a one-day MaxPass, to $75 for a year-long pass for Annual Passholders. Rates are expected to be dramatically increased ahead of the Star Wars land opening.
If Star Wars Land does open with MaxPass, instead of FastPass, it would be the first time
a U.S.-
based Disney park has featured a paid option only for skip-the-line privileges. Other parks, like Universal and SeaWorld, offer paid options almost exclusively, with SeaWorld testing a skip the line program for regular park guests on Kraken Unleashed last year, though that program is currently not available to guests.
Disney has experimented with various versions of free FastPass programs, and recently
introduced a program
for certain guests staying at its most expensive Orlando hotels the option to buy additional FastPasses ahead of their visit.
Touring Plans
has done extensive research into the FastPass+ program at Walt Disney World with the conclusion that the system does make the wait time in the regular line longer though it is minimum (it should be noted that the research did show a slight decrease in wait times for some headliner attractions). With this increase in mind, some are speculating that there might not be any FastPasses available here either for the first few months the new land is open.
There are still conflicting reports on if Disney plans to introduce FastPass lines to the California version of the land after the initial MaxPass only time period.
There have also
been rumors
that Disney might be planning to offer preview days for the new land where a set amount of upcharge tickets to the land are sold. All major theme parks typically open their newest rides and lands well before the announced grand opening. These soft openings can cause large crowds to gather near the entrance area to the new land. At Universal Orlando soft opening crowds became an internet phenomenon, with dozens of guests live tweeting and streaming from the site every day open to close.
Disneyland might be looking to lessen these soft opening crowds with the use of paid only admission. The Star Wars land exclusive admission tickets would require regular park admission too.
The Disneyland version of Star Wars: Galaxy's Edge is expected to open in late spring 2019 with the Orlando version opening a few months later.