Jen Cray
Big Business at the Abbey
THIS LITTLE UNDERGROUND
Big Business, Buildings and Junior Bruce, The Abbey, Feb. 25

Among ongoing news of the major tide of
new music venues
opening this year, one recent development that's worth mentioning and watching is downtown venue the
Abbey.
It's not a new event hall at all but its variety programming (which ranges from cabaret to comedy to theater) hasn't historically had much intersection with the city's rock circuit. But if recent shows there are any omen, that could be changing. Some notable indie promoters like
Norsekorea Presents, For Your Friends Booking
and
Endoxa Booking
have lately held concerts in the spacious and comfortable room, the kind of shows that can stick a bit of real culture and edge to the yups of
Thornton Park.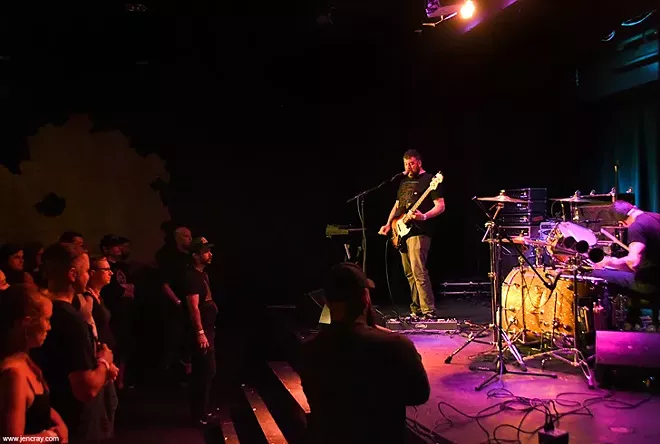 Jen Cray
Big Business at the Abbey
This time, Endoxa brought in one of the best, most tasteful samplings of the heavy underground, easily one of the best bills seen this year. Topping the marquee were West Coast alternative-metal leviathans
Big Business,
the gruesome twosome of Coady Willis and Jared Warren that packs one of the best pound-for-pound punches in rock.
Jen Cray
Big Business at the Abbey
Jen Cray
Big Business at the Abbey
When underground gods the
Melvins
added them to their official lineup in 2006 for almost a decade, it made for one of the
most memorable eras ever
for the legendary cult band. And that was due almost entirely to the live boost that the Big Business boys brought to the party rather than the actual material of that period. Big Business themselves flirted with expanding their own horsepower – ultimately doubling in size to a quartet – which was forceful but had diminishing returns.
But of all the interesting things they've done over the course of their career – which have produced some of the most creative, convention-bucking results in hard rock – their true essence has always been as a
two-piece band
where they've struck a balance between muscle and economy that's as optimum as anyone has ever achieved. And now they're back to original, brilliant form as a duo.
Jen Cray
Big Business at the Abbey
Maybe it's Big Business' lack of orthodoxy that's relegated them to that place in the canon where respect is deep but not widespread. Too massive to be punk and too elemental to be straight metal, their sound looks elusive on paper. Live, though, their
pure onslaught
is the perfect opposite. And seeing them operate as a two-piece again was a reminder of their genius, a magic that is all animalism and athleticism. With grooves that are maximum rush and roar, this bass-and-drums combo is the low-end theory pushed to the nastiest rock extreme.
Jen Cray
Big Business at the Abbey
These guys have long been on the vanguard of groundbreaking bands proving that heavy music need not be sludgy or viscid. In the case of Big Business, it comes like an airstrike. Although it seems only deep heads know it, they've proven over their career to be trailblazers. And if this were a just world, these guys would get the recognition and celebration that
Torche
enjoys.
Jen Cray
Buildings at the Abbey
Also sharing a similar fate is Minneapolis'
Buildings,
one of the most underrated yet
best noise-rock bands
in the game right now. Straight out of the noise-rock mecca of Minneapolis, this knockout trio finally returned to remind why they floored me when they played Will's Pub five years ago.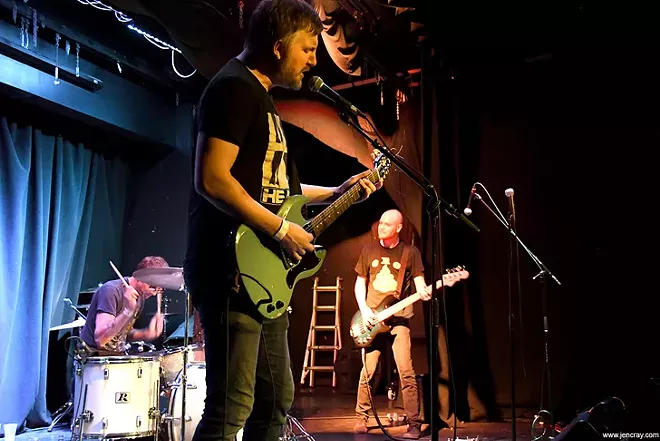 Jen Cray
Buildings at the Abbey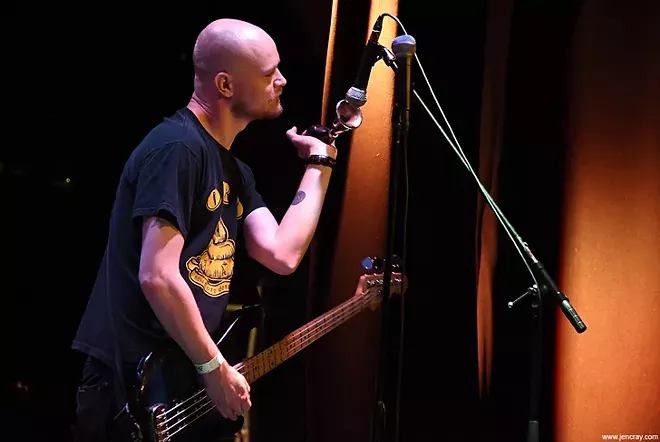 Jen Cray
Buildings at the Abbey
Jen Cray
Buildings at the Abbey
Unlike the scum and infection of the
Jesus Lizard
or
Unsane,
Buildings' distilled attack kills with precision not lunacy. More slash than smear, this shit is in full control, of itself and you. It's high-wire rage that hits more like a missile than a bomb.
Jen Cray
Junior Bruce at the Abbey
Local Southern sludge lords
Junior Bruce
have gotten lots of earned praise in this paper. And though it's been a while since I've seen them, their fire still burns hot like a blast from hell's gate. They're cut from some of the best cloth this region has ever produced and they continue to tower on stage.
Jen Cray
Junior Bruce at the Abbey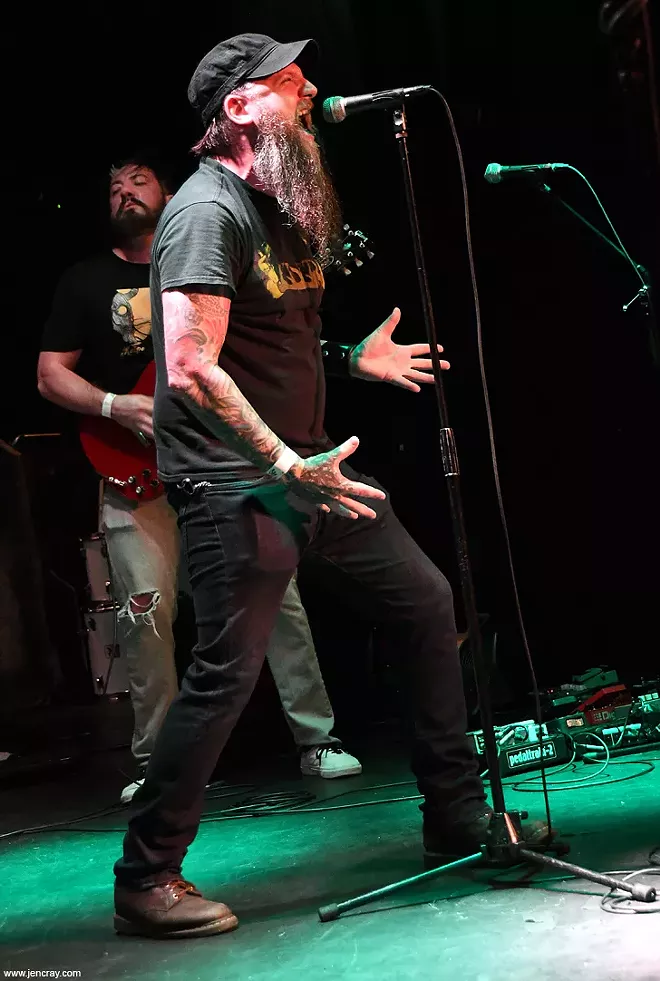 Jen Cray
Junior Bruce at the Abbey
Besides this way-legit wrecking ball of a show, last week saw the likes of
KRS-One, AJJ
(fka Andrew Jackson Jihad) and
Shellshag
roll through the Abbey. So add this venue's
calendar
to your area concert sweep and you could be surprised from time to time.
While you're at it, keep an eye on fellow Thornton Park spot the
Veranda Live
as well. It's a
new outdoor venue
worth watching that just started up last week with a free spring concert series.
///////////////////////////////////////////////////////////////////////////////////////
This Little Underground
is Orlando Weekly's music column providing perspective, live reviews and news on the city's music scene.

Follow Bao on Twitter (@baolehuu)
Email Bao: baolehuu@orlandoweekly.com