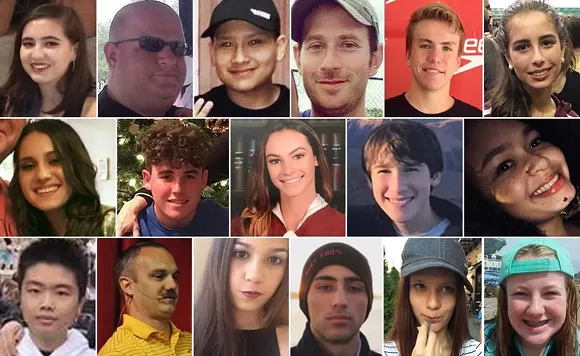 Photo via CBS 12
The 17 victims of the Parkland high school shooting.
Gov. Rick Scott has proclaimed Feb. 14 as Marjory Stoneman Douglas High School Remembrance Day in Florida.
Scott's office made the announcement a little more than two weeks after a gunman killed 17 students and teachers at the Parkland high school on Valentine's Day. The governor also asked Floridians to join him in a moment of silence at 3 p.m. on March 3 in honor of the victims.
"In the days since the senseless loss of life at Marjory Stoneman Douglas High School, I've met with members of the Parkland community, students and their families and announced a major plan of action to keep our students safe," Scott said in a statement. "As we work to ensure this never happens again, we must always remember and honor the students and educators lost and join together to support those impacted."
The proclamation also Floridians to pause for a moment of silence at 3 p.m. on Feb. 14 every year and directs all state flags to be lowered at half-staff from sunrise to sunset in memory of the 17 lives lost in the attack.
"We should express our profound sympathy to the families who have lost their loved ones in this tragic event; express gratitude to those who serve the Parkland community; and always remember that Florida is resilient and will endure during times of great tragedy," the proclamation reads.
This is the second time in recent memory that Scott has declared a remembrance day to honor victims killed in a Florida mass shooting. Last year, the governor proclaimed June 12, 2017 as
Pulse Remembrance Day
in honor of the 49 victims killed by a shooter at the gay nightclub Pulse in Orlando.