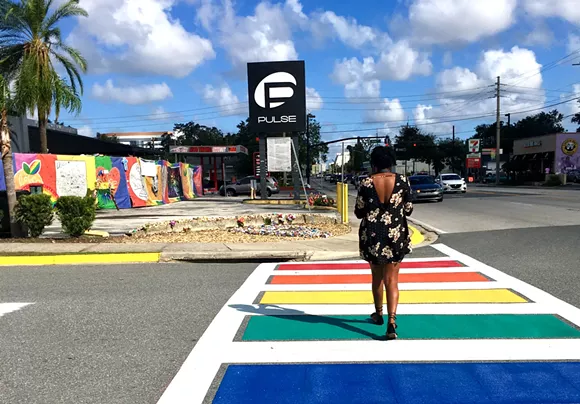 Photo by Monivette Cordeiro
Orlando Rep. Carlos Guillermo Smith has filed an amendment to bring $1 million in state funding for the Pulse memorial after state lawmakers proposed the same amount for a memorial at Marjory Stoneman Douglas High School.
The $1 million appropriation for the Parkland high school is included in a
larger bill
from the Florida Legislature that establishes a program to arm certain school employees, institutes several gun restrictions and expands school safety programs. The move comes after 17 students and teachers were killed at Stoneman Douglas high school by a former student.
"One of the reasons my constituents sent me here was to fight for the memory of the 49 angels taken at Pulse," Smith says. "Their lives must never be forgotten and Florida has a responsibility to educate future generations about what happened to our community on June 12, 2016. If the legislature can put $67 million towards arming teachers and $1 million towards an important memorial at Marjory Stoneman Douglas, we can afford $1 million for the equally important memorial at Pulse."
Smith has previously questioned why Florida lawmakers have responded so differently to the tragedies at Stoneman Douglas and Pulse.
"The majority of the Pulse victims, the 49 people who lost their lives at Pulse, they were mostly LGBTQ people of color. Didn't their lives matter? Why wasn't the debate about gun safety important enough then?" the Orlando Democrat said to
POLITICO
. "The victims at Pulse were disproportionately low income, disproportionately more likely to not have access to insurance, not have access to mental health services. And we had cuts to the mental health system after that. So I'm calling the question over why Republican leaders are tripping over themselves right now and calling for investigations and resignations and new laws."
The amendment filed by Smith would give $1 million in non-reoccurring funds from state funds to the City of Orlando for the "design and construction of a memorial" honoring the 49 people who lost their lives on June 12, 2016 at the gay Pulse nightclub in Orlando.
"The city shall collaborate with the families of the victims, survivors, Orange County Government, onePULSE Foundation, Orange County Regional History Center and other relevant entities of the Orlando community," the
amendment
says.
Pulse owner Barbara Poma and her organization, the
onePULSE Foundation
, are currently developing plans to turn the site of the massacre into a memorial and museum. The City of Orlando had previously tried to buy the Pulse site to develop a memorial for $2.25 million, but that
deal
fell through.
UPDATE:
Smith's amendment failed by a vote of 49-67 to be added to the bill.

Stay on top of Orlando news and views. Sign up for our weekly Headlines newsletter.