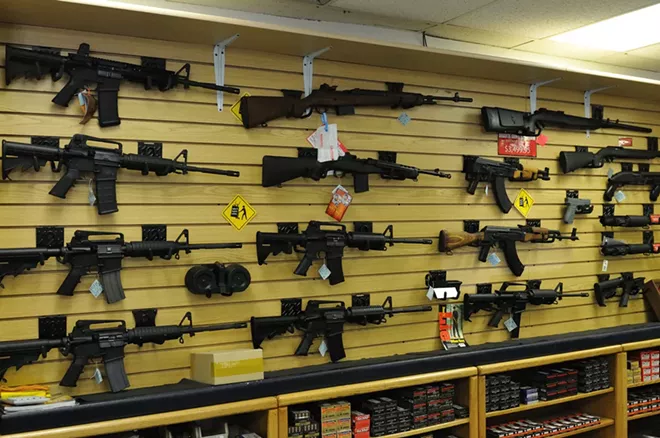 Photo via Michael Saechang/Flickr
Apparently a
jar of tar and feathers
is what Florida Republicans get if they vote in favor of any sort of gun reform.
That was the case yesterday, not long after state senators
passed a bill
that raised the age to buy a gun from 18 to 21 and imposed a minimum three-day waiting period on gun purchases. With the vote tally in the bag, GOP senators received the hand-delivered gifts to their offices from unknown senders.
"From the Children of Bradford County," the note reads, written in red tape across one side of the Mason jars. On the other side, it reads, "The tar and feather enemy of freedom award." On top, the jars are decorated with a plastic "poop" emoji and a glued-on feather.
It's still unclear who exactly distributed the gifts to each lawmaker's office. One thing is for sure, though, according to aides: The gifts weren't from children.
Marion Hammer, head of the National Rifle Association's Florida chapter, told the
Times/Herald
that her organization had nothing to do with the side-eye gesture. "We don't make threats," she claimed. "And we never discuss our strategy."
However, following Monday's vote, the
NRA
posted an alert to its members: "Senate leadership strong-armed enough senators to vote in favor of the bill, despite hearing from gun owners across Florida that passing gun control would do nothing to secure out schools or fix our broken mental health system."
The note continues in the organization's typical sensationalized, red-alert fashion: "YOU and every other law-abiding gun owner is being blamed for an atrocious act of premeditated murder. Neither the three-day waiting period on all rifles and shotguns, raising the age from 18 to 21 to buy any firearms or the bump stock ban will have any effect on crime. Despite that fact, senate leaders rammed through gun control as part of the bill."
Making the vote and resulting gifts all the more interesting, 11 of the senate Republicans who voted in favor of the measure are either termed out or will not face re-election this coming November. Even so, six of them will be on the chopping block. They include: Sens. Jeff Brandes, R-St. Petersburg; Kathleen Passidomo, R-Naples; Keith Perry, R-Gainesville; Wilton Simpson, R-Trilby; Kelli Stargel, R-Lakeland; and Dana Young, R-Tampa.
Stay on top of Orlando news and views. Sign up for our weekly Headlines newsletter.