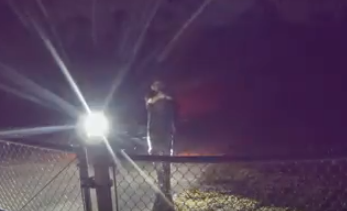 Brevard Sheriff / YouTube
Apparently somebody has a problem with the sign near the gate of the Florida Power & Light Co. solar farm.
Brevard County sheriff's deputies are searching for the maniac that keeps shooting the signs with a handgun near the security gate at 8840 Fleming Grant Road.
The first incident took place roughly four months ago, and it has been an ongoing problem every time repairs are made. "Each time the sign is replaced the unknown suspect damages the sign again with gunfire," said deputies on a Facebook
post
.
FPL recently installed a light and security camera near the sign, which the shooter used for additional target practice, but not before it managed to get his face on camera.
It's unknown why the gunman is targeting these signs, but FPL is not happy about it.
"We are aware of the ongoing investigation regarding a suspect who has repeatedly shot a sign outside one of our facilities in Brevard County. We take matters like this extremely seriously, which is why we've been working hand-in-hand with the Brevard County Sheriff's Office to try to identify this individual to ensure he's arrested and prosecuted to the fullest extent of the law," said FPL in a statement.
Brevard Sheriff / YouTube
Anyone who has information on who this might be is encouraged to call South Precinct General Crimes Agent, Wendy Crowe at 321-253-6683 or CRIMELINE at 1-800-423-TIPS (8477). You can remain anonymous and are eligible for a reward.