Photo via Dale Whittaker/Facebook
University of Central Florida's Board of Trustees has unanimously selected
Provost Dale Whittaker
to succeed President John C. Hitt, who after 26 years of service will retire this summer.
The board convened on campus Friday morning to publicly interview four nominees vying for the presidential throne. Whittaker, the university's second-highest ranking officer, prevailed among two current university presidents from Ohio and North Dakota and an executive from Purdue University.
"I'm ready, I'm capable," Whittaker told the board, some of whom are his colleagues. "and fundamentally, you know my values." If confirmed by the Florida Board of Governors, Whittaker will take office the day after John C. Hitt retires.
The provost stood out from the other candidates for his familiarity with the campus and his desire to focus on insider initiatives. "His vision for UCF, I think, has been extremely well articulated but also well implemented," said Robert Garvy, vice chairman of the board.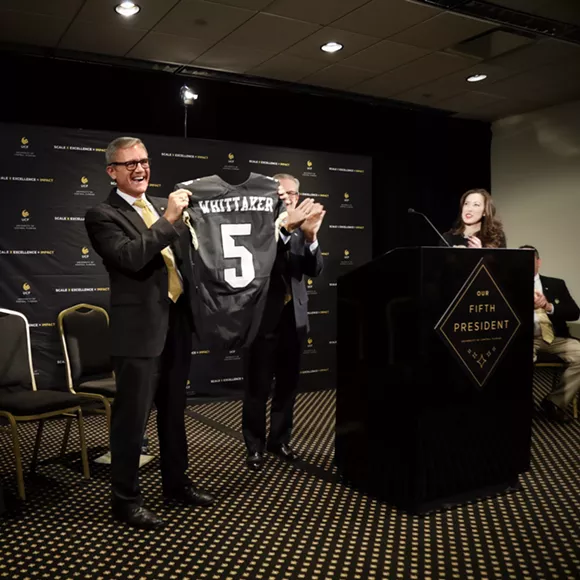 The decision hinged on whether there was a significant benefit in bringing in an outsider with a fresh perspective, like the three candidates from other state institutions, as opposed to the low-risk option of a semi-insider like Whittaker.
Whittaker graduated from Texas A&M and obtained his master's and doctorate's degrees in agricultural engineering from Purdue University. He worked in undergraduate affairs at Purdue for four years before becoming UCF's provost in 2014.
His last pitch to the board before his nomination was optimistic. "We have a higher education story that is ready to be capitalized on." The board questioned each candidate for 75 minutes, discussing topics of diversity and inclusion, research and entrepreneurism, community partnerships, and the arts and athletics.
President Hitt congratulated Whittaker on his selection in an email released immediately after the board adjourned. "We look forward to working with you and Mary to ensure a smooth transition. You have our most sincere wishes for a prosperous and satisfying presidency."
Stay on top of Orlando news and views. Sign up for our weekly Headlines newsletter.