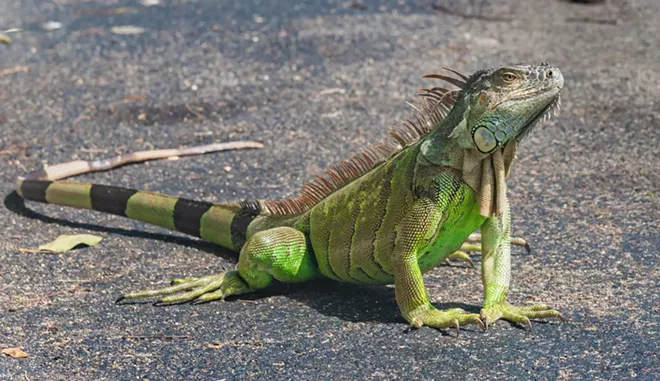 Florida researchers are now taking a more medieval approach to Florida's non-native green iguana problem.
A team of researchers from the the University of Florida, backed by a $63,000 grant from the Florida Fish and Wildlife Conservation Commission, have spent the past three months tossing iguanas against hard objects, and also using a bolt gun to smash their skulls.
"Most of what we're doing is blunt force trauma," Jenny Ketterlin, UF wildlife biologist and research coordinator, told the
Sun Sentinel.
"Hitting their head very hard against a solid object."
Ketterlin says this is the most humane way to kill the animals and still stay within the state's animal cruelty laws. So far, her team has killed 249.
Iguanas, which can grow up to 5 feet in length, originated from Central America, tropical regions of South America and various eastern Caribbean islands. They were first spotted in southern Florida in the 1960s and have taken a fancy to burrowing themselves in infrastructures, like seawalls. These burrows can cause erosions and ultimately collapse a seawall, causing damage to houses. Their herbivorous lifestyle means their poop ends up everywhere, including swimming pools, and that could potentially spread salmonella.
What to do with these little creatures has been a mystery to Floridians for a while. This past winter
frozen iguanas
were falling from trees, leaving lizard popsicles in people's yards, and of course, there's the "iguana popping up in a
toilet bowl
" scenario that seems to happen at least once a year.
But this new initiative by the FWC is hoping to give tips to homeowners on the best ways to deal with these pesky things.
Ketterlin's project will continue through May.