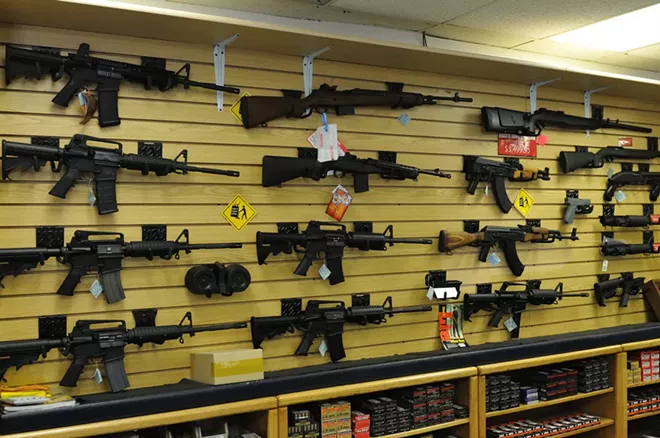 Photo via Michael Saechang/Flickr
Two important proposals will be heard at the Constitution Revision Commission's last
public hearing
today: Sunshine State voters could be asked to ban the transfer of several types of semiautomatic rifles, whether by sale or gift, and they could also institute new age and wait limits on the purchase of any firearm.
Both measures were submitted to the CRC after word broke last week that the National Rifle Association filed
a lawsuit
against Florida following Gov. Rick Scott's signing of a $400 million school safety and gun control law that imposed a three-day waiting period and raised the age to purchase a rifle from 18 to 21.
The bill, known as the
Marjory Stoneman Douglas High School Public Safety Act
, does not enact a ban on assault-style weapons – like an AR-15, the type of rifle Nikolas Cruz used in the Feb. 14 Parkland massacre – even after Democrats attempted to amend the legislation.
"Floridians should have a right to vote on this," CRC appointee Chris Smith, a former state Senate Democratic leader, told
Politico
. "The Legislature had its vote and that's about 160 people. Now the rest of Florida should have a say."
Both proposals would need 22 members of the 37-member commission to voice their approval if either measure is to make it to the November 2018 ballot. Once there, the proposals – which were submitted by Smith and fellow CRC appointee Roberto Martinez, a former U.S. Attorney for Southern District of Florida – would then require a 60 percent voter-approval threshold to amend the Florida Constitution.
Sixty-two percent of Florida voters approve of an assault weapons ban, according to a recent
Quinnipiac University poll
. The same poll found that 78 percent of Floridians want to raise the legal age to purchase all firearms from 18 to 21, and 87 percent support waiting periods of an indeterminate period of time for all gun purchases.
(As complicated as it may be, a brief lesson on how the CRC works is available
here
.)
Today's public hearing begins at 1 p.m. at the University of South Florida student center in St. Petersburg.
Stay on top of Orlando news and views. Sign up for our weekly Headlines newsletter.