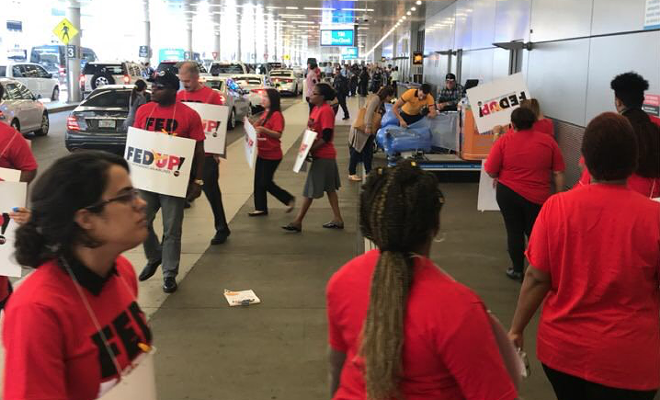 Photo via Unite HERE/Twitter
Unionized catering workers at Orlando International Airport are protesting Thursday against airlines who they say continue to pay low wages in the midst of record profits.
Workers for LSG Sky Chef and Gate Gourmet in Orlando don't work directly for Delta, American Airlines or United, but they say the airlines can require contractors to pay higher wages. The unionized catering workers, represented by Teamsters Local 385 and UNITE HERE, are responsible for in-flight meals and preparing beverage and snack carts.
UNITE HERE
says airline companies can definitely afford to give workers raises because neither Delta, American or United have paid federal income tax in the last three years despite
record profits
of over $10 million a day. Federal law allows "
loss carryforwards
," a tax strategy used by companies who've had huge financial losses to deduct those losses from future taxable income. Basically, it means Delta hasn't paid any federal income tax since 2011 because of financial losses in the early 2000s, according to the
Atlanta Business Chronicle
.
"In contrast, airline catering workers, most of whom are people of color, struggle to make ends meet on as little as $8.80 an hour," the organization said in a statement. "Often forced to work multiple jobs to survive, these workers are calling for higher wages and equality with other airline workers. In some cities, caterers for United, American and Delta do not even pay wages on par with area minimum wages or established living wage standards for other airport workers."
Felix Latimer works at LSG Sky Chef as a meat cutter. After 10 years with the company, he still only earns $11 per hour.
"We don't have lives," he says in Spanish. "They ask too much of us. We are obligated to work overtime."
Latimer says he and many of his coworkers have to hold a second job to support their families. He adds that his wife almost divorced him for not spending enough time with her or his children because he was working all the time.
"I have grandchildren, too, and I can't enjoy them," he says. "These airlines are earning millions of dollars at our expense. … They ask us for respect, but they don't respect us."
Carlos Serna, another catering worker at Orlando International Airport, says he pays more income taxes than all three major airlines combined.
"I am struggling to survive and they are raking in billions in profit and billions more from passenger fees, including for the food and beverages we prepare," Serna said in a statement. "Those airlines should at least make sure we get the raises we deserve."
Workers protested and handed out leaflets to passengers at Orlando International Airport, Miami International Airport and 10 other airports across the country.
Stay on top of Orlando news and views. Sign up for our weekly Headlines newsletter.