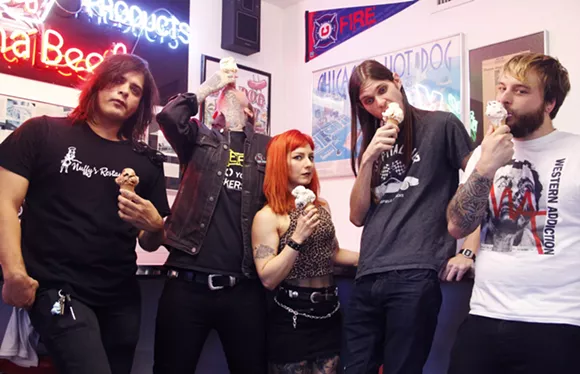 Welcome to
Orlando Weekly
's "
Band of the Week
." Every week, we highlight one of our favorite local bands. This week, we're pleased to bring you
Vicious Dreams
.
Vicious Dreams are playing March 23 at Will's Pub with Dead Boys, Sick Dogs, and Golden Pelicans.
Just the facts:
When did the band form?

We got together in the summer of 2015.
Who's in the band?

Andrew on drums, Darick on lead guitar, Henny on rhythm guitar, James on bass and Amanda on vocals.
Currently available releases:

Our first record
Somethin' Vicious
is available on our Bandcamp page:
Our newest release is a split with The Ridgelands from Chicago.
Websites:
Facebook

Bandcamp
Describe your sound in five words:

Punk with powerpop sprinkled in
Five questions:

What has been your most memorable show so far?

We recently put out a split with the Ridgelands from Chicago and we did our record release show with them in Blue Island, Illinois. It was so fun! Their scene is so close-knit and welcoming. Everyone went nuts, we all reeked of beer, and then drove 20 straight hours back to Orlando!
Which local band is your favorite one to play a show with?

Sick Dogs! They shred, they're tuff, they're loud & pretty. We also love playing with SHOT from Tampa and the Talking Dogs from Miami. Florida has some real gems.
What description gets used for your band that you would most
like to correct people on? Why?

We'll either just get called "female-fronted" or people will try to compare us to other bands only because they have female singers as well. But really, as long as you come out and have fun at our shows we don't care what you wanna call us.
What's your favorite thing about being an Orlando band? What's your least favorite? Why?

We've played in a decent amount of cities no other scene supports different music, people, lifestyles quite like we do. Here we can have one show where a punk, metal, R&B, powerpop band, etc, can all be on one bill and people show up to support them. It doesn't really happen like that in other cities. Other punk scenes can be very clique-y.
Over the last couple years there's definitely been a lack of venues for bands to play, but it does seem like we're starting to see some cool new venues popping up within the last couple months. We're really excited to check 'em out! (But Peacock Room will never be forgotten, R.I.P.)
Any big news to share?
We're writing new stuff right now! Hopefully putting out another record soon-ish and we've got our eyes set on another tour in summer 2018! We're thinking this one might require a plane instead of our van though… we'll keep ya posted!