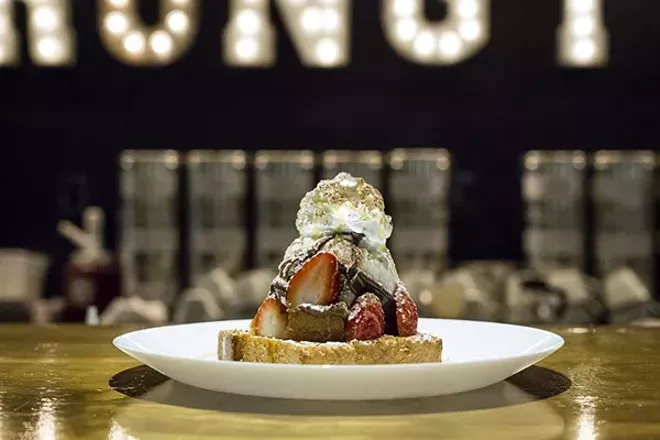 Rob Bartlett
Brick toast dessert at KrungThep Tea Time, named "Best Dessert to Instagram" in our Best of Orlando 2016 issue.
Southern Living
magazine's annual
"10 Best Southern Food Towns" list
is out, and Winter Park is sixth out of the 10 cities named.
Four other Florida cities were also included in the top ten: Naples (no. 4), Key West (no. 7) and St. Augustine (no. 9).
Literally no reasoning was provided in the listicle posted on SouthernLiving.com, so we have no initial clue why the editors decided Winter Park was worthy of the distinction — the only inclusion is the name of the town and a single photo. The picture that accompanies the one line of text is from 4 Rivers Smokehouse, so we assume the
SL
staff like our BBQ(?).
What the article
does
somewhat settle is the argument about whether Central and South Florida are considered "The South," which, according to the article, they are. (But not Texas?)
In case you're curious,
Southern Living
's no. 1 pick was Oxford, Mississippi.
Even though the national mag didn't feel it necessary to call out some of Winter Park's best restos and eating spots, here are some of our faves:
1.
Buttermilk Bakery
Where you want to meet up for coffee + avo toast and/or matcha croissant.
1198 N. Orange Ave., 321-422-4015, buttermilk-bakery.com
2.
The Ravenous Pig
We're big fans of the new(ish) late-night limited bar menu paired with a C&L brew.
565 W. Fairbanks Ave., 407-628-2333, theravenouspig.com
3.
Garp & Fuss

Last week's
restaurant review
praised this female-run resto as "one of the lovelier dining spots in the city."
348 N. Park Ave., 407-960-5560, garpandfuss.com
4.
Create Your Nature
Exciting oatmeal is no longer an oxymoron. We adore the savory Good Luck Parm bowl with parmesan cheese, olive oil, granulated honey, truffled sea salt and black pepper.
1284 Orange Ave., 407-636-3001, createyournature.com
5.
KrungThep Tea Time
This Thai-style tea house is what lunchtime dreams are made of, especially the Satay Satay sandwich.
1051 W. Fairbanks Ave., 407-733-3561, krungthepteatime.com