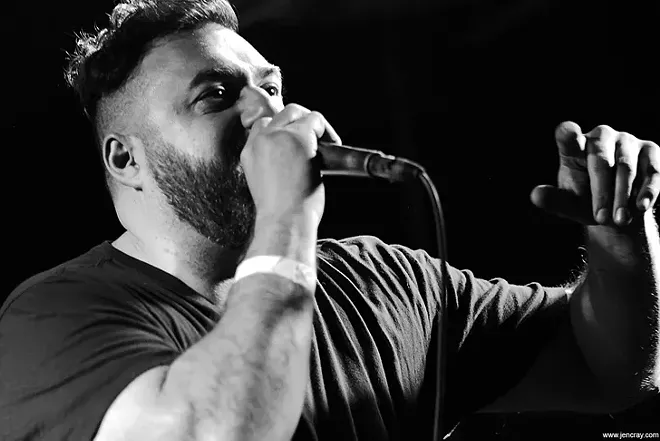 Jen Cray
Ceschi at Will's Pub
THIS LITTLE UNDERGROUND
Ceschi, Onry Ozzborn, Moodie Black, Esh and E-Turn, Will's Pub, Mar. 21

What did I tell you about Orlando-based promoter
Endoxa Booking
emerging as an unlikely but manifest
alternative-rap force
in the city? This prime bill is the latest in probably the most consistent string of forward rap shows going in town right now.
Jen Cray
Ceschi at Will's Pub
Jen Cray
Ceschi at Will's Pub
Practically a family affair for hyper-progressive hip-hop label
Fake Four,
the showcase was anchored by co-founder
Ceschi,
a rapper as unbound by hip-hop convention as they come. To wit, he began his performance completely offstage, seated on the floor at the back of the room with an acoustic guitar like some extempore folk campfire. From there, he traveled far and wide, sonically and physically, moving from floor to stage and back again.
Jen Cray
Ceschi at Will's Pub
Jen Cray
Ceschi at Will's Pub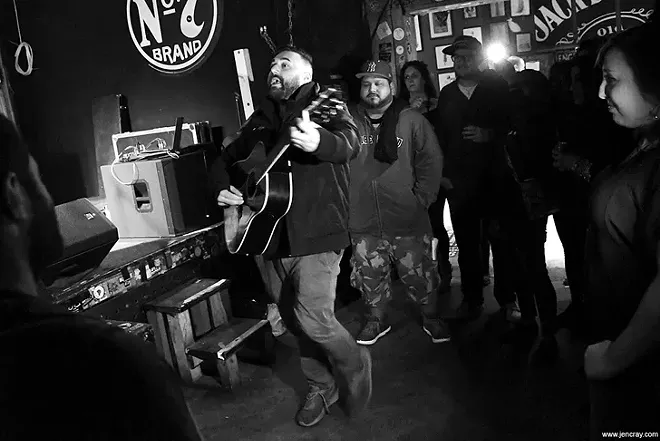 Jen Cray
Ceschi at Will's Pub
On paper, what Ceschi does can be dizzying in its scope and fusion. Live, though, it all clicks in a rare gestalt of style, message and delivery. It's the kind of deep phenomenon that's more the stuff of cult than mere following.
Jen Cray
Onry Ozzborn at Will's Pub
The rest of the bill was as varied as it was interesting. Credentialed underground rap figure
Onry Ozzborn
dropped some funky murk. Boston MC
Esh
rocked his anti-swag with humor, character and some nice live flourishes like keyboards and drum.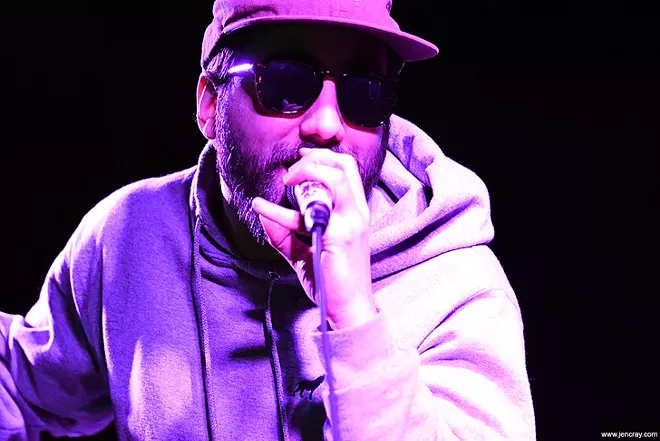 Jen Cray
Esh at Will's Pub
Jen Cray
Esh at Will's Pub
Jen Cray
Esh at Will's Pub
As for local flamethrower
E-Turn -
after
this,
and
this
, and
this
- what more can I possibly say about her? At this point, if I gush any more, she could put out a restraining order on me.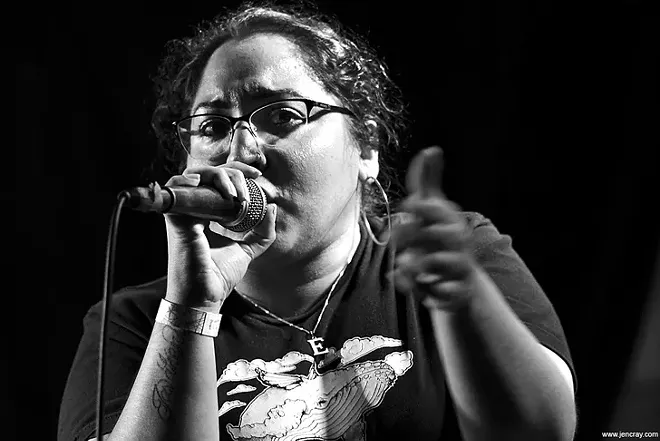 Jen Cray
E-Turn at Will's Pub
But there is some significant news to share about this exceptional homegrown talent. As of this year's recent SXSW, she's now a
made woman
on the official
Fake Four
roster.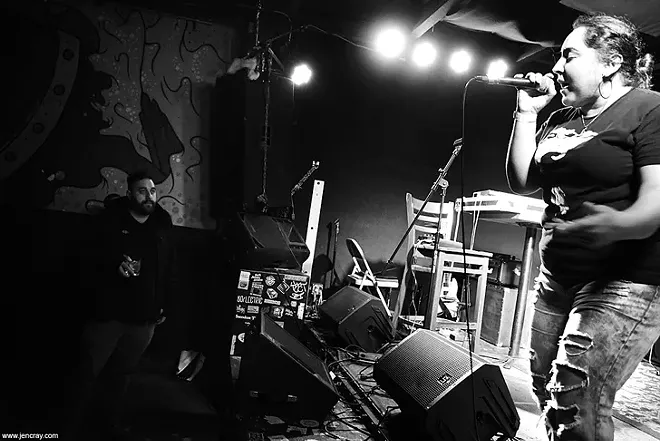 Jen Cray
E-Turn at Will's Pub
Being on one of the most vanguard hip-hop labels in the game is a serious milestone, and E-Turn is the newest star in a constellation that's included real pioneers like
Ceschi
himself,
Astronautalis, Sadistik, Busdriver, Bleubird
and
Onry Ozzborn.
It's taken longer than we predicted but it's starting to happen for her. Told you she was going places.
Jen Cray
E-Turn at Will's Pub
Even amid all that, though, the most transfixing performance came from L.A. noise-rap duo
Moodie Black.
From their music and presentation, this was the act that piqued my sixth sense the most on this roster. Turns out, the intrigue that they put out there is accurate but only partial. Live, it's enveloping, a storm of total mystique and onslaught.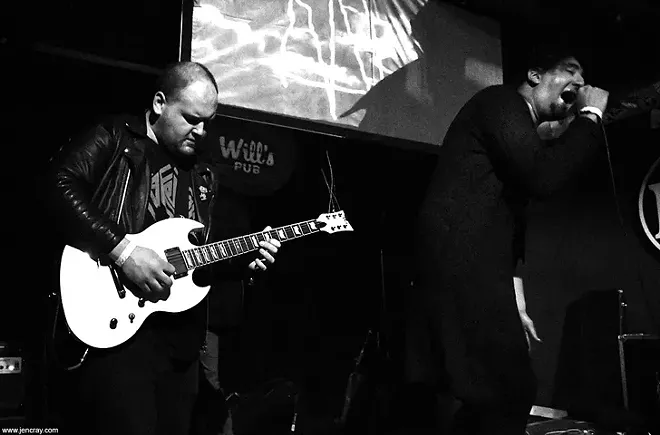 Jen Cray
Moodie Black at Will's Pub
In pitch darkness save for a projection screen playing vaguely menacing footage, K Death weaves a cadence of conflict and anguish, an apposite delivery for a
non-binary view
of a hostile world. All set to the industrial terror of a death shuffle and guitars that rage with screaming torment, this is
hip-hop brinkmanship
par excellence. And it's staggering. For the finale, Ceschi joined them on stage and both MCs threw down until finally receding to guitarist Sean Lindahl's
wall of noise,
a monolith of sound that squalls like Orthrelm in a shoegaze blizzard.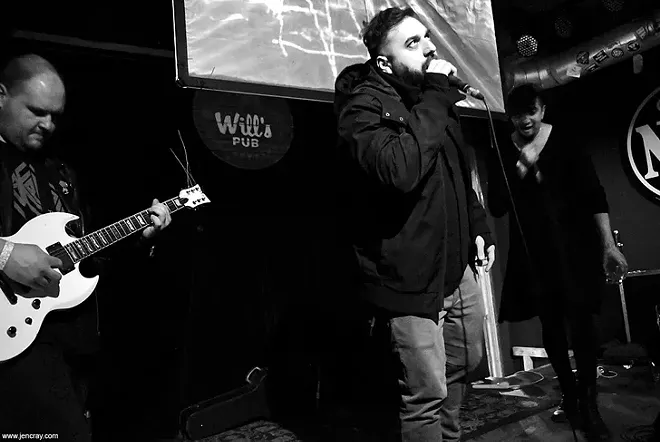 Jen Cray
Moodie Black at Will's Pub
Moodie Black brought the most concept and execution of the entire night. Gripping and inspired, they're one of the most powerful and relevant voices in underground music right now. With the modern breakout of acts like
Death Grips
and
Ho99o9,
the darkness of Moodie Black could finally see some crucial daylight. And their biggest step toward that may just happen next week with the April 6th Fake Four release of
Lucas Acid,
a new album that is K Death's open reckoning with being a person of both
color and transgender.
Meet the sight and sound of the zeitgeist.
Follow Bao on Twitter (@baolehuu)
Email Bao: baolehuu@orlandoweekly.com
Get our top picks for the best events in Orlando every Thursday morning. Sign up for our weekly Events newsletter.