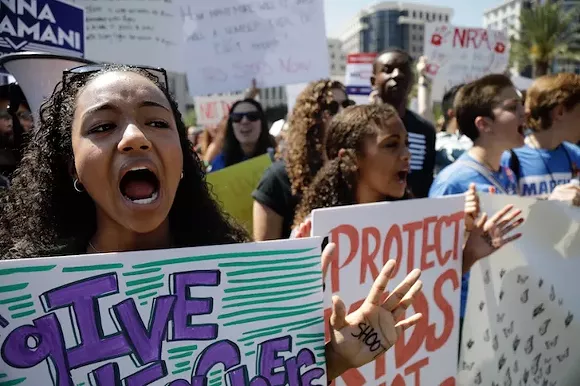 Months after surviving the mass shooting at the gay nightclub Pulse,
Keinon Carter
walked into a gun store.
He felt unsafe in his own home in Orlando. But when he got inside, Carter said he recognized a firearm – it was a military-style weapon, similar to the one the Pulse gunman used to shoot him twice and kill his friend Antonio Davon Brown.
"I was shot by a gun that cost $700," Carter told the audience. "Losing 49 friends and being injured myself for $700. Is that what our life is worth?"
"No!" the crowd shouted back.
"It's a gun for war," he said "You can't tell me you need that much protection to protect your home. … Something that powerful that can just take lives in a [matter] of seconds, should be off these streets."
Photo by Monivette Cordeiro
Carter was speaking to tens of thousands of people who streamed into Lake Eola Park and marched through downtown Orlando Saturday as part of a nationwide rallying cry against gun violence started by student survivors of the Marjory Stoneman Douglas High School shooting. A little more than a month ago, 17 students and teachers were killed by a gunman in the South Florida shooting.
Around the country, young people organized over 800 rallies to "
March For Our Lives
" and specifically advocate for limiting semiautomatic assault weapons and high-capacity magazines.
For many in Orlando, the movement against gun violence started almost two years ago after 49 people were murdered at Pulse and at least 68 were injured on June 12, 2016. During the march, protesters carried a banner with 49 butterflies to represent Pulse victims and 17 eagles to represent Parkland victims that said "Never Again Orlando."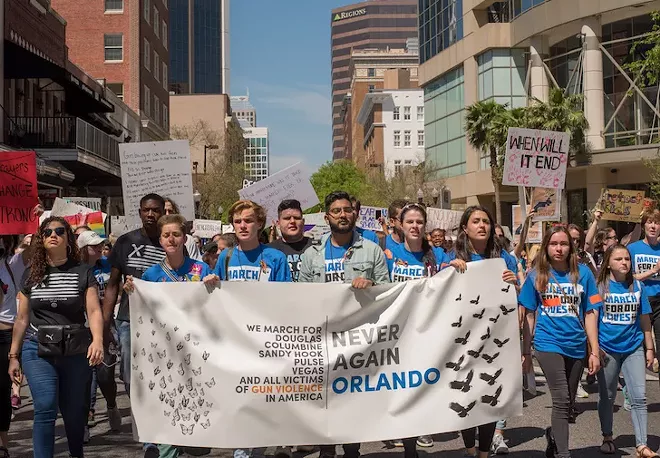 Photo by Monivette Cordeiro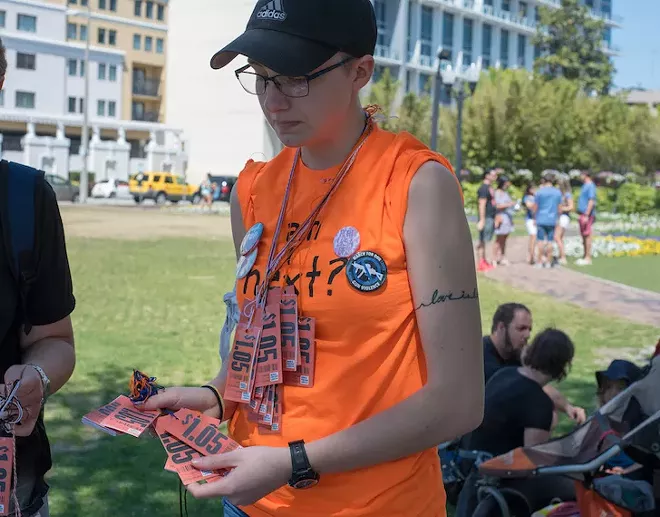 Photo by Monivette Cordeiro
Stephanie Minarik, 36, and her two children were handing out bright orange price tags with the value of
$1.05
before the march started.
"That's how much the NRA gave Marco Rubio for every student in Florida," said Piper Lawson, 16.
Lawson said was inspired to join the fight against gun violence after the Pulse shooting by Minarik and her other mother. The two had one of their first dates at Pulse, and the family lives near the club.
"We knew people that unfortunately were affected and passed away," Minarik said. "It's just sad that this is what the world has come to."
The Florida Legislature did not pass any major gun reforms after Pulse, but weeks after the Parkland shooting, lawmakers passed some gun restrictions, including a ban on bump stocks and raising the minimum age to purchase a firearm to 21. But legislators also included a measure to allow certain school staff members to carry guns on campus. Minarik said if Orange County Public Schools decide to implement this program, she will pull her kids out of district.
"They'll go to virtual school," she said. "We're not comfortable with teachers having guns. Look at the damage kids are doing. Imagine a teacher going to school on a bad day, and a kid that doesn't pay attention or is disruptive – what is that teacher going to do?"
Juana Lozano, of Apopka, expressed similar concerns. She attended the march with her kids and other members of the Farmworker Association of Florida.
"After Pulse, I was afraid to go out in public," Lozano said in Spanish. "Even here, I have some fear because we don't know if a person with bad intentions is going to shoot. But we need to take that risk. If we don't come out here, they won't see us. They won't take us into account. We need to do something."
Lozano's three children all said they felt afraid at school.
"I'm scared because of the shooting," said Alex, 8. His sister Andrea, 10, added, "I'm here because I'm worried that something might happen to my school."
Lozano said she also does not want teachers to carry firearms at her children's elementary school.
"What if a teacher gets made and starts shooting?" Lozano asked. "Or what if they have to shoot and confront someone? … If we do not make ourselves present, nobody will listen to us."