Rick Scott recently signed bill
HB 839
into law, which requires each public school in Florida to "conspicuously" display the Florida state motto "In God We Trust."
One issue with this bill is that despite making the display mandatory, the bill doesn't offer any funding to the schools for signage.
Atheists of Florida may not be the group you'd expect to donate "In God We Trust" signs to public scho0ls, but they say that they're here to
help
.
The group has already come up with two designs that they are willing to donate to any of Florida's more than 4,000 public schools.
The first design, shown above, reads "E Pluribus Unum, In God We Trust," meaning "Out of Many, One, In God We Trust." It is then surrounded by part of the first amendment saying, "Congress shall make no law respecting an establishment of religion, or prohibiting the free exercise thereof."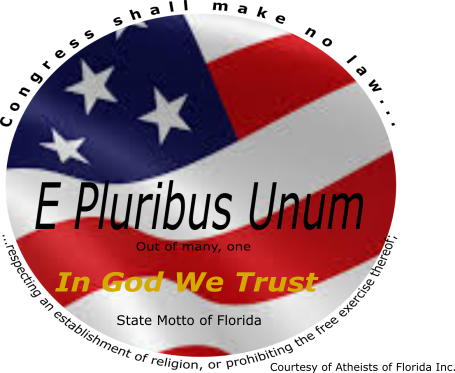 The second design is not as finalized, but is still in the market research phase. The proposed design would include images of many gods from other religions and a
survey
is available to the public to choose which gods should be included. Some of the current options include Jesus, Thor, Shiva and Satan.
The survey is available through April for those who care to participate.
Stay on top of Orlando news and views. Sign up for our weekly Headlines newsletter.