image via Mission Kitchen on Instagram
Guacamole fries will be served at Mission Kitchen
A new vegan (mostly) food truck that hopes to be rolling by the end of the month will also have a brick-and-mortar home base, they announced this week.
Mission Kitchen holds a grand opening party
all day Friday, March 30, and everything on the menu is just $1. The menu covers the basics like tacos, burritos, tamales, tostadas and enchiladas, but where you'd usually be choosing beef, pork or chicken, on Mission Kitchen's menu (see below) you have the choice of black bean and sweet potato, grilled corn and squash, or cauliflower and potato.
However, an asterisked aside at the bottom of the menu reads "Carnivore? Ask to see secret menu." Also, Brendan O'Connor reports over at the Bungalower that they're
still working on a vegan cheese recipe
, so probably best not to bring your really hard-core vegan pals here for a minute.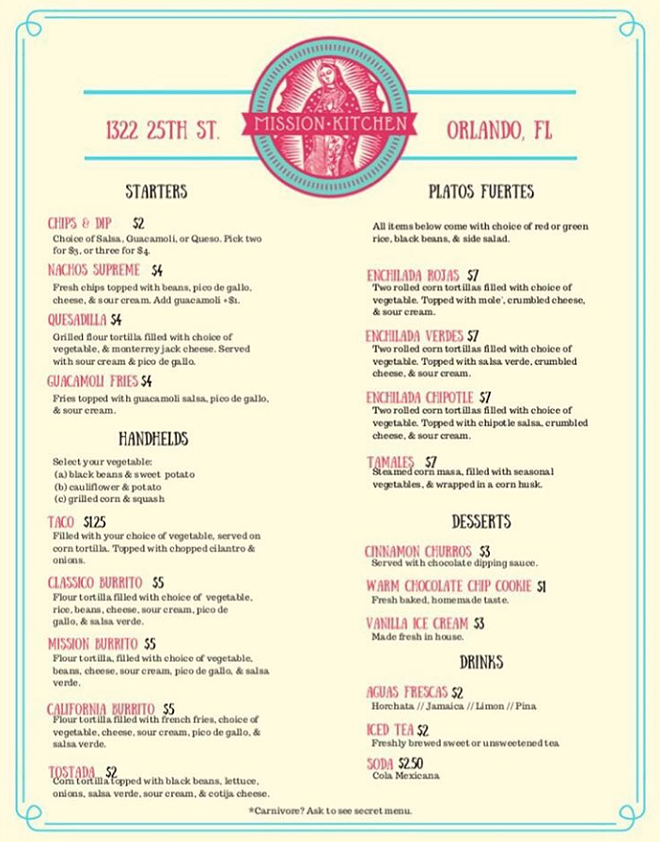 image via Mission Kitchen on Instagram