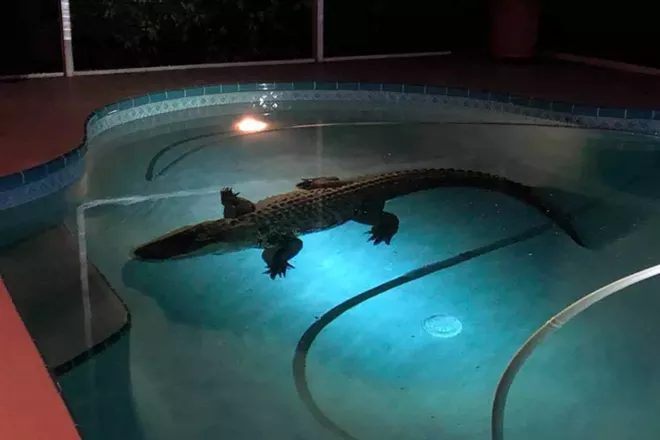 Photo via Sarasota County Sheriff's Office/Twitter
An 11-foot-long alligator was removed from a family pool Friday night in Sarasota County.
Pictures and videos emerged on Sarasota County Sheriff's Office Twitter account of the gator taking a swim in the backyard pool, until a trapper arrived to wrangle it out of the water.
This is just one of the many gator sightings that have occurred over the past few weeks. A
6-foot gator was removed from a Lake Nona pool
last Tuesday, March 21; a
7-foot long gator was removed from a front yard of a Titusville home
Saturday morning; and another
7-foot gator caused a traffic jam on I-295 in Jacksonville
on Sunday.
Florida has a healthy and stable alligator population (an estimated 1.3 million alligators) and they're a-courtin'. With the arrival of April their mating season is on the way, slated for May or June, according to
Florida Fish and Wildlife Conservation Commission
.
As alligators come out to play, you just might want to check your swimming pool before sticking your toes in the water this spring.