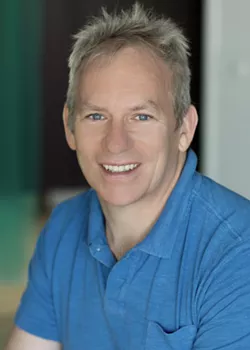 I first heard music by Orlando-based composer Charlie Griffin at the 2014 Central Florida Composers Salon, an annual event that showcases music by members of the Central Florida Composers Forum, which Griffin founded in 2011. Among the selections for that evening's program was
Shifting Coastlines
, a three-movement song cycle in which Griffin applies a modern language to the 19th-century art song tradition.
Griffin, a course director in the Music Production program at Full Sail, has kept busy since then, composing and teaching advanced composition. Today he is a significant voice in a relatively small group of composers based in Central Florida who are engaging with the community and making contemporary classical music in Orlando a thing.
In 2014 he inaugurated "Zero Crossings," a weekly radio show on WPRK at Rollins College, focusing on contemporary and 20th-century classical music – otherwise absent from Orlando airwaves – and also placing emphasis on local composers, conductors and other musicians. Although the show is currently on hiatus, Griffin is in talks about relaunching it on WMFE (our local National Public Radio affiliate), and also taking it up again at WPRK with a co-host. "There is a need for a show of this nature here in Orlando, even if it is somewhat niche," he says. I agree.
Smaller still is the group of contemporary local composers who have managed to break through and have their music performed for larger audiences, usually by one of the two longstanding classical music organizations in town: the Orlando Philharmonic and the Bach Festival Society. This Saturday, the Orlando Phil premieres Griffin's "Frontispiece on J.S. Bach's Prelude in G," a short piece for solo cello – performed by O.Phil music director Eric Jacobsen – and orchestra, commissioned to open for Brahms' Symphony No. 1, a mainstay of the standard repertoire.
Jacobsen and Griffin first met when the conductor was in town to audition for his current role with the Orlando Phil; when he looked over some of his scores, he knew Griffin was "a total craftsman," Jacobsen told me on a phone call in early March. When the opportunity for the commission arose, they talked about how Brahms was such a huge student of Bach, constantly following in his footsteps, always reworking counterpoint exercises. That was the point of departure for the commission: a piece with a sort of prelude feel with which to open for the Brahms.
"Sometimes you look at something and you know it's well-crafted," Jacobsen said; he had just received the new score via a PDF file. "You look at the first and second pages and you go like, 'yeah, this is going to work.' Then you start getting into it to see what the nuances are. I know the piece is going to work and I can't wait to discover the really minute and special moments in it."
Griffin is the latest among a select few local composers this season to be performed by the Orlando Philharmonic. I recently caught up with him over email about his working relationship with Jacobsen and the new "Frontispiece on J.S. Bach's Prelude in G":
Orlando Weekly: How did you first meet Eric Jacobsen? At what point did you first discuss the opportunity of performing your music?
Charlie Griffin:
My WPRK show started shortly after the OPO [Orlando Phil] started their search for a new conductor to replace Christopher Wilkins. The last four candidates all came on "Zero Crossings" as part of their gauntlet with the orchestra. Eric came on twice, at the end of 2014 and beginning of 2015; we had great, fun conversations. I did not bring up performing my music specifically at that time, but I did suss out his level of interest in supporting living composers and local composers in general. I'd already known that his [former] string quartet, Brooklyn Rider, commissioned and performed many living composers. He called me at the end of 2016 and by February 2017 we had ironed out what the piece would be.
OW: What is the approximate duration and instrumentation of "Frontispiece on J.S. Bach's Prelude in G"? How long did it take to compose?
It's a little over four minutes long. It takes the Bach Solo Cello Prelude in G and includes it in its entirety, which is about two minutes long (performed by Eric) at the center of it. The orchestra is the exact same instrumentation as Brahms' Symphony No. 1: double winds, four horns, two trumpets, timpani and strings, with the added solo cello. It's fully orchestrated, with countermelodies, and an introduction and closing based on the main Bach motive. I started working on it in September.
OW: How would you describe the piece in terms of structure, content, and any other extra-musical connections?
The Bach Prelude exhibits that special magic that he's so famous for amongst composers, particularly the outlining of chord structures and polyphonic lines within the solo cello part. Once G major is established, he also takes a kaleidoscopic detour away from the home key before returning to the spectacularly sunny opening motive. I tried to capture the various tonal worlds and motives that Bach crafts in the original and amplify them with my orchestration.
OW: Your website mentions orchestral works you have composed dating back to the '90s, until your Concerto for Chamber Orchestra of 2008. Is that the latest predecessor of the new piece, in terms of orchestral music?
There was another orchestral piece in between those. But in any case, I don't think of current work as being necessarily related to past work. The majority of my writing has been for smaller ensembles, mostly because that's where the majority of opportunities in my career have presented themselves.
OW: How has your style evolved in the last few years, or how has your interest in what you want to accomplish as a composer changed?
As I've gotten older, I've become increasingly interested in communicating as simply and directly as possible.
OW: Your commission is the most recent of three collaborations between Eric and the OPO and local composers, following Keith Lay and Stella Sung. How do you think this augurs for contemporary classical music, especially locally? What are other ways in which contemporary music can be fostered and performed?
I think there is growing support for contemporary music here in Orlando. I'm incredibly excited about the new season just announced by the Orlando Philharmonic. The Bach Festival Society recently premiered a new piece by Daniel Crozier, and John Sinclair has also committed to presenting at least one new work annually that was written by a local composer. Hanrich Claassen, the new director of the Florida Youth Symphony Orchestra, is also excited about new music, and he and I are setting things in motion to begin a relationship between FSYO and the Central Florida Composers Forum. Thad Anderson does amazing things at UCF. Jamie Wehr is working tirelessly to establish the Orlando Contemporary Chamber Orchestra. And of course Chris Belt and Benoit Glazer are similarly establishing Alterity and innovating other contemporary music programs here.