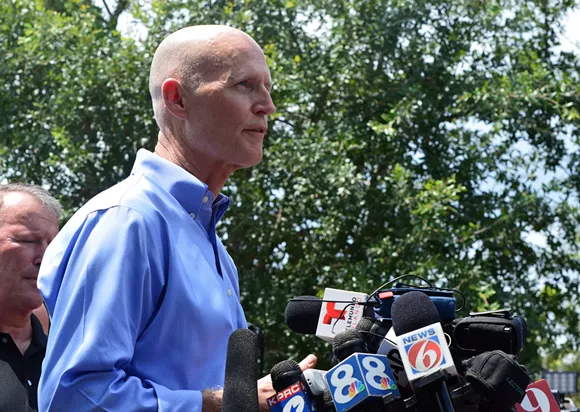 Photo by Monivette Cordeiro
Gov. Rick Scott talks to the press regarding mass shooting at Orlando's Pulse nightclub.
Since the tragic mass shooting at Marjory Stoneman Douglas that left 17 students and faculty dead, Florida Gov. Rick Scott has been seen wearing a maroon ribbon to show solidarity and support to the victims and survivors. While this is absolutely the right thing to do, it's hard to ignore the fact he hasn't done the same thing for Pulse victims.
Rep. Carlos Guillermo Smith of Orlando echoed this observation last night on
Twitter
, stating that the public deserves an answer as to why the governor has yet to show equal support and solidarity to those affected by the 2016 shooting at the gay nightclub Pulse, which left 49 dead and 68 injured.
While it may seem like a trivial thing to criticize a politician for not wearing a ribbon, one of the most important duties of an elected official, especially a governor, is to aid the public with the healing process following a tragedy.
After Pulse, which is the second deadliest mass shooting in modern U.S. history,
Scott took almost two days
to say the word "gay" or "LGBTQ," or even acknowledge the existence of Florida's LGBTQ community.
According to Ben Johansen, founder of the
Orlando Ribbon Project
, Scott visited The Center of Orlando five days after the mass shooting and was twice offered a rainbow ribbon, which he declined.
It really should come as no surprise that Scott won't wear a Pulse ribbon. Over the last eight years our governor has been the opposite of an LGBTQ ally. Not only did he fight to preserve the right to
ban gay marriage
, a year after Pulse, Scott
broke his simple promise to sign an order
that would protect state LGBTQ employees against discrimination based on sexual orientation or gender identity.
When approached about it by Smith, the governor actually "
ran away
."
To his credit, Scott did declare June 12, 2017, as an official remembrance day for Pulse, but not as a recurring thing like how
Feb. 14 is an ongoing day of remembrance
of the shooting in Parkland. Nope. Orlando gets just one single day. Thanks, Rick.
The thing to remember about the rainbow Pulse ribbon is that while it does have deep roots in the LGTBQ community, it's become a much bigger symbol for Orlando. You see the rainbow everywhere in Orlando – on crosswalks, bandshells, street banners, pretty much everywhere. The rainbow not only reminds us of our tragedy, but it represents how we emerged stronger.
Florida now has to shoulder two of the worst mass shootings in our country's history, and by never wearing a Pulse ribbon, Scott shows his constituents which tragedies matter to him and which don't.
Orlando Weekly
reached out to Scott's office for comment but did not receive an immediate response. We'll update this post if and when we receive one.
Update:
Scott's office responded and said the governor owns a Pulse ribbon, and he did in fact wear one all day during the anniversary of Pulse in Orlando on June 12, 2017.
However, we could not confirm this and a video from the Orlando Police Department that was filmed that day shows Rick Scott not wearing a Pulse ribbon.
Here he is again that day, not wearing a Pulse ribbon:
Maybe he did briefly wear it at some point that day, but we can't find any footage of this. If anyone does have a photo, video or anything, we'd like to see it.
It's also important to note that it's not about the ribbon. It's about the public's perception of the governor's support. If Scott really does care about what happened at Pulse, why is it so hard to find something as simple as a ribbon on a lapel?