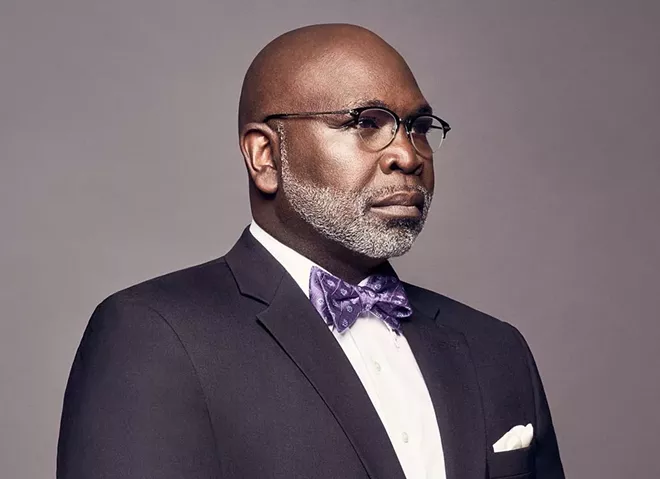 Dr. Willie Parker, an abortion provider and reproductive justice advocate, will speak in Orlando this Wednesday.
Parker
is a nationally recognized physician who provides abortion care for people in Alabama, Pennsylvania, Georgia, Illinois and perhaps most famously in
Mississippi
, where he treats patients in the state's only abortion clinic.
Parker was the physician plaintiff in a
federal lawsuit
after Mississippi officials tried to force the Jackson Women's Health Organization to close using
TRAP
laws in 2012. Last year, a federal district court
permanently blocked
Mississippi from using the law to shut down the last clinic. Currently, the clinic is
suing
the state again after Mississippi's governor signed into law the
most restrictive abortion measure
in the U.S. The state now bans women from getting abortion after 15 weeks of pregnancy except in cases of medical emergency or severe fetal anomaly – but not in cases of rape or incest.
Parker, who recently authored the book
Life's Work: A Moral Argument for Choice
, told
Glamour
that Mississippi's abortion ban was "an assault on women across the South."
"The idea that these laws are intended to make women and children safer rings hollow," Parker writes. "On the contrary, medical evidence makes it clear that the health of women depends on the availability of safe access to abortion services. … It also rings as ironic that proponents of these restrictions are very often the same lawmakers who vote to cut off funding for Medicaid, housing assistance, child care, and education—all the things that families need to raise children."
The
Florida Interfaith Coalition for Reproductive Health
and local reproductive justice groups will be hosting Parker in Orlando on April 11 to speak about his book and autograph copies. The Rev. Kathy Schmitz will moderate a community discussion with Parker about his journey as a medical provider and Christian to helping women in their reproductive care.
"Expect their conversation to be rooted in faith, justice, and a shared understanding of the moral autonomy and sacred worth of women,"
event organizers
say.
The event starts at 9 a.m. with light refreshments and is by invitation only. If you would like to request admission, email your name and phone number to flfaithforchoice@gmail.com.
Stay on top of Orlando news and views. Sign up for our weekly Headlines newsletter.