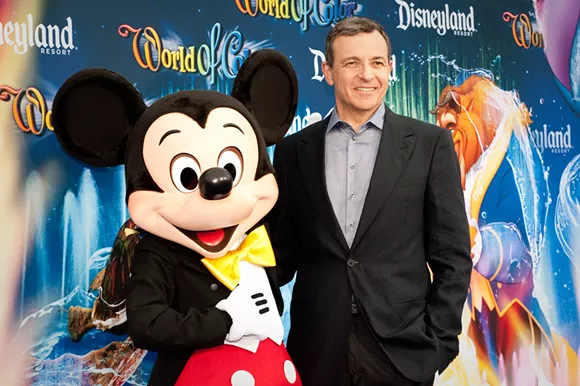 In a
Vogue
magazine profile published Thursday, Disney CEO Bob Iger discusses the idea of making a 2020 run for the White House, among other issues, like the #MeToo movement and DACA.
Iger says that even before the 2016 presidential election, he had already considered running for president himself.
From
Vogue
:
"'Willow [Bay, his wife] initially not only hated the idea,' he says, 'but put her foot down because she thought it would be highly destructive to our family and to our lives.' But the thought nagged at him, and with his wife's reluctant permission, he was in the process of seriously exploring a run when the [mega-merger] Fox deal sealed his fate. 'The thought I had was coming from the patriot in me, growing up at a time when we respected our politicians not only for what they stood for but because of what they accomplished. I am horrified at the state of politics in America today, and I will throw stones in multiple directions. Dialogue has given way to disdain. I, maybe a bit naively, believed that there was a need for someone in high elected office to be more open-minded and willing to not only govern from the middle but to try to shame everyone else into going to the middle.'"

...

Last June he left Trump's Advisory Council after the president decided to withdraw from the Paris climate deal. He has expressed support for athletes who kneel in protest during the national anthem and spoken out against Trump's decision to rescind DACA. 'We have hundreds of employees who are Dreamers,' he says. 'They didn't grow up in the places they were born; in most cases their entire families have left; often they don't speak the language. They're hardworking contributors to our company and to society, and it seems incredibly cruel to force them back. As for the Advisory Council, I thought that being given access to the president of the United States was a privilege regardless of who he was or what he stood for. You can argue about just how valuable the Paris climate accords were, but I thought the principle of countries getting together and declaring that the world was potentially in peril was right. And when the president decided to pull out, I thought, An unhealthy world, a fragile world, is not good for society, and it's not good for business. And just as a small thing—if you try to build a theme park in a city where the air quality is terrible'—he is presumably referring to Shanghai Disney, which opened two years ago—'people aren't going to want to go, because they're not going to want to be outside.'

On the
#MeToo movement
, Iger reportedly says:
"Two things need to occur. We need to figure out as an industry how to prevent this behavior from happening again, and we have to make sure that we create environments for people, particularly women, to be able to speak up if they have been victimized by this or if they have seen others being victimized by it. I love that people are speaking up, and I hope – and I'm actually optimistic – that change is coming."
For the full profile, click
here
.

Stay on top of Orlando news and views. Sign up for our weekly Headlines newsletter.