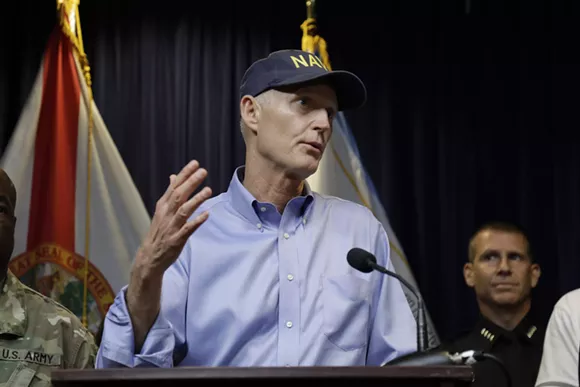 On Monday, in an effort to force the governor's hand in acting on climate change, eight young Floridians – the youngest of whom is 10, the oldest of whom is 20 – were
reportedly
named plaintiffs in an lawsuit that seeks to implement a statewide court-ordered "Climate Recovery Plan."
In the suit, the plaintiffs accuse Gov. Rick Scott and his administration of failing to carry out legislation aimed at dialing down carbon emissions and ignoring the obvious threat of rising seas along Florida's coast – in part, the basis for the state's tourism industry, which, in 2016, carried an economic impact of about $112 billion, according to data released by
Visit Florida
.
But as commendable as their effort may seem, talking Scott into adhering to anything science-based may prove tricky. We're talking about the same guy who oh-so-profoundly declared
"I'm not a scientist"
when asked his thoughts on global warming, who
denies having banned phrases related to climate change
in his administration and who seconded President Donald Trump's move
to withdraw from the Paris climate agreement
.
The plaintiffs in the lawsuit are being represented by
Our Children's Trust
, an Oregon-based organization that sponsors similar suits from children nationwide at the state and federal level. The original case –
Juliana v. United States,
which was filed in 2015 against the federal government – was based on the same arguments. While some may have found the case to have been a legal stunt of sorts, a federal judge found the argument sound enough to send the case to trial
in October
.
It looks like the kids got it right, you could say, because the Sunshine State will be particularly susceptible to climate change in the coming future. Miami Beach – a city that's witnessed some of its worst seasonal flooding in recent years – has so far
spent $125 million to combat the consequences of climate change
. That's in the face of how new research from the
NOAA
shows Miami streets could flood on a daily basis by 2070 under certain climate models.
In a statement, Scott's spokesman McKinley Lewis says, "The governor signed one of the largest environmental protection budgets in Florida's history last month – investing $4 billion into Florida's environment. The governor is focused on real solutions to protect our environment – not political theater or a lawsuit orchestrated by a group based in Eugene, Oregon."
Stay on top of Orlando news and views. Sign up for our weekly Headlines newsletter.