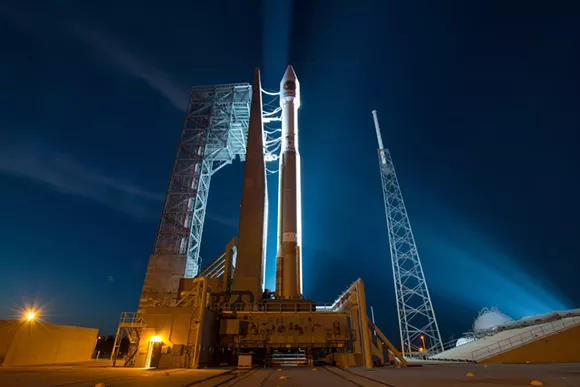 Florida's aerospace agency praised the long-delayed confirmation Thursday of Oklahoma Republican Congressman Jim Bridenstine as the next leader of NASA, pointing to further growth coming to the private space industry.
Space Florida officials said they anticipate Bridenstine will reinvigorate the industry, noting that he's been hands-on in Congress.
"We look forward to working with him as the nation moves to leverage the relationships between government and the private sector and between states and federal agencies," Space Florida President and CEO Frank DiBello said in a statement after the Senate confirmed Bridenstine in a vote along party lines.
"His leadership of a NASA focused on research and exploration will be critical to reinvigorating U.S. leadership in space by bringing the true strengths of all facets of American ingenuity together for the expansion of human activity in space," DiBello added.
But President Donald Trump's choice of Bridenstine for the job was controversial, drawing opposition from lawmakers such as U.S. Sen. Bill Nelson, a Florida Democrat who as a member of Congress traveled as a payload specialist aboard the space shuttle Columbia in January 1986. Nelson maintained that Bridenstine is too partisan for the post.
"The NASA administrator should be a consummate space professional," Nelson said while on the Senate floor Wednesday. "That's what this senator wants, a space professional, not a politician as the head of NASA."
Nelson said the administrator should also be "technically and scientifically competent and a skilled executive."
"More importantly, the administrator must be a leader who has the ability to bring us together to unite scientists and engineers and commercial space interests and policymakers and the public on a shared vision for future space exploration," Nelson said.
NASA's administrator position has been vacant since Charles Bolden, who led the agency under President Barack Obama, stepped down in January 2017. The vacancy was the longest the federal agency has gone without an administrator.
Before the confirmation vote, Gov. Rick Scott tweeted his support for Bridenstine, who was named to the job last September by Trump.
"I hope Jim Bridenstine gets confirmed," Scott, who is running for U.S. Senate, tweeted. "It isn't helping NASA to have obstructionist Senate Democrats delay the confirmation process. Like me, he served in the Navy and will fight for our space program —- not just talk about helping it like so many of the career politicians in DC."
Bridenstine's confirmation was able to advance after Republicans Jeff Flake of Arizona and Marco Rubio of Florida agreed to support the confirmation, which had been deadlocked in the Senate.
"While I wish the president would have nominated a space professional to run NASA, the unexpected April 30 retirement of the acting administrator would leave NASA, an agency whose mission is vital to Florida, with a gaping leadership void …," Rubio said in a prepared statement.
Sen. Brian Schatz, a Democrat from Hawaii, called it "terrifying" to have Bridenstine in the job as the Republican is a climate-change "denier" and doesn't have a scientific background.
"Either Mr. Bridenstine has not bothered to read up on the scientific consensus on the most pressing scientific issue of our generation or he does not agree with that consensus," Schatz said on the floor. "Either explanation makes him unqualified to run NASA."
However, Sen. Mike Lee, R-Utah, said Bridenstine, who has served on the House Science, Space, and Technology Committee, will help bring a "renaissance" needed at NASA, as the U.S. has been "retreating" from space since astronaut Neil Armstrong walked on the moon in 1969.
"From that position (Bridenstine's) been a thoughtful leader on American space policy as it relates to national security, commerce and weather forecasting," Lee said.
Stay on top of Orlando news and views. Sign up for our weekly Headlines newsletter.