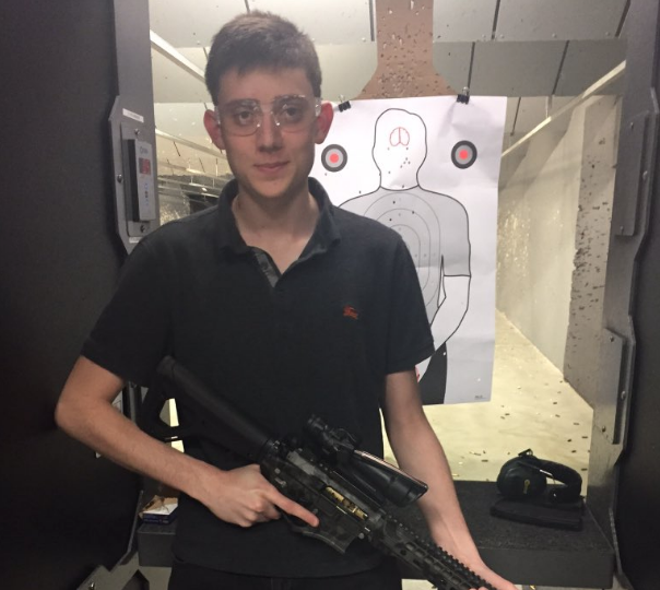 Screen grab via Twitter.com/KyleKashuv
Because of his pro-gun position in the firearm debate, Kyle Kashuv, a junior at Marjory Stoneman Douglas High School, has been in the limelight following the Feb. 14 mass shooting in Parkland that left 17 dead and 17 more injured.
But prior to last week, although he has widely praised the Second Amendment in recent weeks, Kashuv had never fired a gun. So on Friday, he and his father visited a gun range, so that Kashuv could learn how to shoot, which the 16-year-old shared on social media:
In light of those posts, it comes as little surprise that some of Kashuv's classmates were spooked given the district's situation – you know, that whole thing where a 19-year-old gunman stormed into their high school with an AR-15 and mowed down their peers barely more than two months ago. It was the worst school shooting in Florida history and among the worst in the nation's history, which explains why Kashuv's classmates reported the posts to school administrators.
On Monday, according to an incident report from the Broward County Sheriff's Office, Kashuv was questioned by law enforcement over the gun videos. He later claimed a school security officer and a Broward County deputy tried to intimidate him.
He tweeted:
Rounding out his point during a Tuesday night appearance on Fox News, Kashuv told host Tucker Carlson, "It was a clear attempt to intimidate me, and they used very, very, very harsh intimidation tactics."
According to the
Associated Press
, a Broward Sheriff's Office incident report confirmed the meeting, although it didn't provide any telling details into Kashuv's claim that the deputy used interrogation techniques against him.
From the
AP
:
After first being questioned by a school security officer, a Broward County deputy entered the room and sat behind the teen, Kashuv said. The deputy began asking Kashuv who the rifle belonged to and who he went shooting with. Kashuv said he asked if he could record the interview and was told that he couldn't. The teen said he felt like the deputy was trying to get him to incriminate his father.

Kashuv said the gun debate has become so prominent since the Valentine's Day massacre that killed 17 that he "felt it was important to learn about the physical mechanics of it," Kashuv said in a text to The Associated Press. "I made sure to post about it because I wanted to show people it's people that are the issue, not guns."
Others, including a father of one of the dead victims of the Parkland massacre and several classmates, failed to see his point:
Stay on top of Orlando news and views. Sign up for our weekly Headlines newsletter.