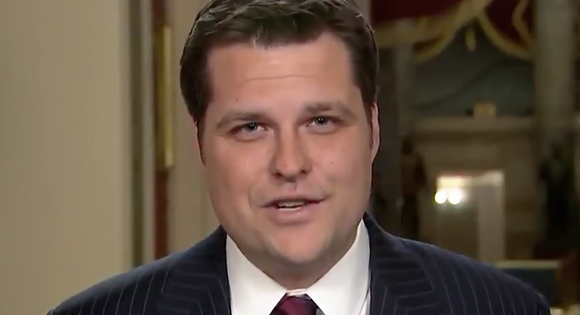 How far can U.S. Rep. Matt Gaetz crawl up President Donald Trump's asshole? The limit, apparently, does not exist because the Florida congressman just nominated Trump for a Nobel Peace Prize.
The Fort Walton Beach representative joined 17 other House Republican lawmakers in a letter to the Norwegian Nobel Committee nominating Trump for the 2019 Nobel Peace Prize for "his work to end the Korean War, denuclearize the Korean peninsula and bring peace to the region."
"His administration successfully united the international community, including China, to impose one of the most successful international sanctions regimes in history," according to the letter. "The sanctions have decimated the North Korean economy and have been largely credited for bringing North Korea to the negotiating table. … President Donald Trump's peace through strength policies are working and bringing peace to the Korean Peninsula."
If you're wondering what those "peace through strength policies" are, it's that time Trump
played chicken
with North Korean dictator Kim Jong Un on Twitter and boasted that he had a "bigger" nuclear button than "little rocket man." Because that's how you achieve peace, people – by
threatening
another country with "fire and fury like the world has never seen" and giving everyone some good ol' nuclear paranoia.
In fairness, these 18 Republicans aren't the first ones to call for Trump to win a Nobel Peace Prize. Earlier this week, South Korean President Moon Jae-in reportedly
said
that "President Trump should win the Nobel Peace Prize" for his efforts to end hostilities between the two countries and the standoff over North Korea's nuclear program. But the
Washington Post
reports negotiations with the communist country have a "long history" of failure, and that both North and South Korean leaders are "using Trump's ego to their advantage."
There's at least
one person
Gaetz knows who's more deserving of the Nobel Peace Prize – she goes to Shoal River Middle School and knows when to give someone the bird.
Stay on top of Orlando news and views. Sign up for our weekly Headlines newsletter.