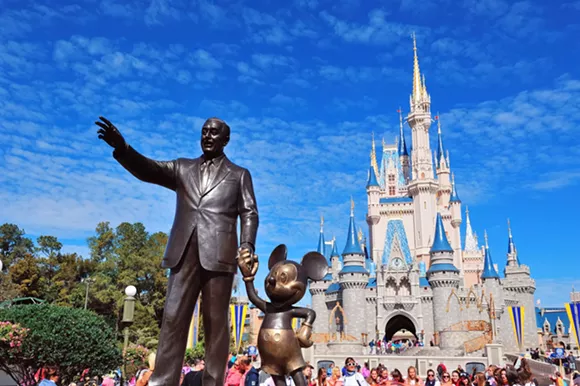 After months of negotiating, Walt Disney World has finally offered Orlando theme park workers a contract that would get them to a $15 hourly wage, but it comes at the cost of key union protections and benefits.
Disney's proposal would raise the current minimum wage ($10 per hour) about a dollar every year until reaching $15 per hour by the fall of 2021. The company will also distribute the $1,000 bonus it previously
denied
to employees with the Service Trades Council Union until a contract was approved.
In exchange, though, workers would have to concede benefits regarding overtime, holiday pay, grievance procedures and scheduling.
"Almost every one of those proposals was taking back benefits or conditions on employment we had bargained for over last 45 years," says Ed Chambers, president of UFCW Local 1625 and chair of the coalition of six unions. "They're basically wiping out 45 years of progress."
The tradeoffs include eliminating overtime pay for employees who work on the sixth day and double-time pay for the seventh day. Instead of getting paid overtime after working eight hours a day, cast members would only get overtime after they hit 40 hours in a week. Cast members would also have to wait a year to transfer to a different location, as opposed to six months.
The rights of shop stewards, people elected by union workers to represent them in front of management, would be reduced. The proposal also eliminates a 20-minute meeting new hires get paid to attend with union representatives.
Disney also offered union leaders the option of accepting a previous proposal the company offered giving non-tipped employees a 6 to 10 percent increase over two years. Under that proposal, cast members making $10 per hour would only get a 50-cent raise in their hourly wages during the first year.
Leaders from UNITE HERE Locals 362 and 737 said in a statement Wednesday that Disney's recent proposal was "an important step in our effort to achieve a living wage for all Central Florida hospitality workers."
"After eight months of rallies, marches, and cast members sticking together, Disney has finally come back with real improvements in wage proposals for 38,000 unionized cast members," the statement said. "But we need to consider it with caution. Disney's proposed raises would come at the cost of other key protections for you, from overtime, to scheduling, and your rights on the job. If we settle, we want it to be fair. In the coming days, our union leadership committee of hundreds of Disney cast members will review the proposals with members."
Orlando Weekly
reached out to Disney for comment but did not hear back by press time.
Chambers says when the six union affiliates heard the proposal from Disney, they said, "No, thank you," but will continue negotiating with the company in June on those issues.
"Our goal is to protect members, to take care of everybody," he says. "We want everybody to get the best wage package. We weren't willing to sell everything we've gained."
Jeremy Haicken, president of Local 737, says UNITE HERE and Teamsters Local 385 are looking forward to continuing negotiations with Disney.
"UNITE HERE and the Teamsters are responsibly discussing Disney's proposal with our members," he says.

Stay on top of Orlando news and views. Sign up for our weekly Headlines newsletter.